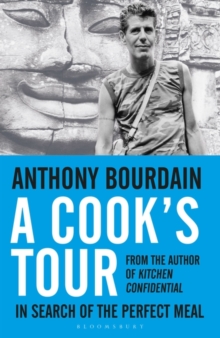 Description
Anthony Bourdain, life-long line cook and bestselling author of "Kitchen Confidential", sets off to eat his way around the world.
But being Anthony Bourdain, this was never going to be a conventional culinary tour.
Bourdain heads out to Saigon where he eats the still-beating heart of a live cobra, and travels deep into landmined Khmer Rouge territory to find the rumoured Wild West of Cambodia (Pailin).
Other stops include dining with gangsters in Russia, a medieval pig slaughter and feast in northern Portugal, the Basque All Male Gastronomique Society in Saint Sebastian, rural Mexico with his Mexican sous-chef, a pilgrimage to the French Laundry in the Napa Valley and a return to his roots in the tiny fishing village of La Teste, where he first ate an oyster as a child.
Written with the inimitable machismo and humour that has made Tony Bourdain such a sensation, "A Cook's Tour" is an adventure story sure to give you indigestion.
Information
Format: Paperback
Pages: 288 pages
Publisher: Bloomsbury Publishing PLC
Publication Date: 07/10/2002
Category: General cookery & recipes
ISBN: 9780747558217
Other Formats
Paperback from £10.25
EPUB from £7.19
Free Home Delivery
on all orders
Pick up orders
from local bookshops
Reviews
Showing 1 - 2 of 2 reviews.
Review by north93
16/06/2015
Chef Anthony Bourdain is probably more widely known today to the public at large as that arsehole guest food critic from that morbidly bad reality TV show Top Chef who also has some weird food show of his own, in which he goes around the world, pretending to be a rowdy cowboy infused with Dr. Gonzo's ghastly left nut. Bourdain actually has two TV shows, A cook's tour being the first one of them but both follow a similar format. Bourdain is shown in some foreign country. Bourdain is shown getting drunk with the locals. Bourdain eats something weird. All of this in the name of looking for the perfect meal. I am not that sure how many people would find a pitch or premise like that interesting, certainly not me. I have seen the show and whilst not terrible – specially considering what the Food Network tries to pass off as TV these days – seeing Bourdain sitting down and eating whilst an annoying voice over of him narrates some dumb anecdote is not my idea of fun. Surprisingly enough I actually liked the book.By favouring raw humour, style to facts and stretching the truth a bit here and there, Bourdain manages to make what on the screen seems like a monotonous tedium into an interesting traveling adventure with some insight from an actual cooking pro. You actually also learn more stuff about the culture Bourdain is trying to literally digest in the form, among others, of a cobra's beating heart or charred goat's testicles on the book than in 30 minutes of zealously edited and cramped television, which is never going to be enough to either flesh out the traditions of anywhere nor the flamboyant (even if exaggerated in the book) traits of some of the characters Bourdain meets along the way.Each chapter of the book usually covers one location, with the exception of Vietnam, which as three or more of its own. It is not set chronologically, and one could easily jump in to one particular chapter and read it since they are pretty much self contained, and in most of those Bourdain makes what's probably the most interesting point of the book, relating the origin of some of the best dishes he's had to the survival of people in the old ages and the need to not waste a thing, which is something modern societies barely think of. The book also gets a more serious tone in moments when Bourdain is in view of the grim conditions in which the less favoured live in those places he visits, but his comments of inadequacy and reactions fall a little flat when 10 pages after that he is getting plastered without that much regard for anything else.The book has enough tidbits about cooking to be considered by those serious about food looking for a light read, and its tone is casual enough to appeal to those others looking for a fun read about exotic places, even more exotic food, and a guy paving his way through those. At the end, one ends up with the feeling that one might have learnt something, even though it could be attributed to the fibre-like effect quality the book has of being more like easily digestible – although entertaining – bulk than something truly fulfilling.
Review by fyrefly98
16/06/2015
Summary: Chef Anthony Bourdain managed to parlay the success of his memoir Kitchen Confidential into the kind of deal that most people only dream about: he would travel around the world, eating local (and often strange) foods in exotic and adventurous locales. These travels would form the basis of this book, and of the TV show of the same name. (Both are somewhat of a preliminary version of his current book/show, No Reservations.) Each chapter takes place on a different trip, from Portugal to Russia to Vietnam to Mexico, as Bourdain travels in search of the perfect meal - both in terms of the food and the experience.Review: Memoirs have not been a large part of my reading life up to this point, mainly because I dislike the "oh, look at my poor, tragically bizarre childhood and how I overcame it" flavor of memoir, and that's all I was exposed to for quite some time. However, the two types of memoir for which I will happily make an exception are 1) travelogues, and 2) foodie memoirs, so A Cook's Tour was right up my alley.Bourdain's prose is not the smoothest or most polished that I've ever read, but it doesn't matter. He writes like he talks, and the effect is such that everything feels immediate, personal, and typically funny as hell. He doesn't spend a lot of time trying to describe flavors with flowery similies, yet still talks about food in such a vivid and appreciative way that I wound up wanting to eat everything he's describing. (Dieters, beware; this book will make you hungry like nobody's business, even if you have no actual desire to try some of the oddball foods he's eating.) The best chapters are the ones in which he manages to hit the right blend of food and travel (i.e. unlike the chapter on Cambodia, which was a destination more for the adventure and less for any notable food) - and where he didn't get too off track in trying to make a point. However, even when Bourdain did get a bit rambly, I was still interested, and given his biting sense of humor, hugely entertained throughout. 4 out of 5 stars.Recommendation: If you like travel, food, and/or reading about either of them, A Cook's Tour will keep you entertained while you plan your next meal... or vacation.