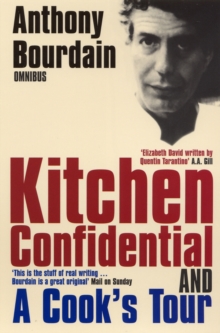 Anthony Bourdain Omnibus : "Kitchen Confidential", "A Cook's Tour"
Paperback
Description
Kitchen Confidential: Adventures in the Culinary Underbelly After twenty-five years of 'sex, drugs, bad behaviour and haute cuisine', chef and novelist Anthony Bourdain has decided to tell all.
From his first oyster in the Gironde to his lowly position as a dishwasher in a honky tonk fish restaurant in Provincetown; from the kitchen of the Rainbow Room atop the Rockefeller Center to drug dealers in the East Village, from Tokyo to Paris and back to New York again, Bourdain's tales of the kitchen are as passionate as they are unpredictable, as shocking as they are funny.
A Cook's Tour: In Search of the Perfect Meal Bourdain sets off to eat his way around the world.
But this was never going to be a conventional culinary tour.
He heads to Saigon where he eats the still-beating heart of a live cobra, and travels into Khmer Rouge territory to find the rumoured Wild West of Cambodia.
He also dines with gangsters in Russia, finds a medieval pig slaughter and feast in Portugal, and returns to the fishing village where he first ate oysters as a child.
Written with his inimitable machismo and humour, this is an adventure story sure to give you indigestion.
Information
Format: Paperback
Pages: 608 pages
Publisher: Bloomsbury Publishing PLC
Publication Date: 16/08/2004
Category: Biography: general
ISBN: 9780747574989
Free Home Delivery
on all orders
Pick up orders
from local bookshops
Reviews
Showing 1 - 4 of 4 reviews.
Review by TimFootman
16/06/2015
The Andy McNab of the kitchen. Gordon Ramsey is an abject girl's blouse by comparison.
Review by neilchristie
16/06/2015
The self-styled Iggy Pop of chefs writes a cracking inside story of restaurants and cooking.
Review by hazelk
16/06/2015
This 'cook's tour' had me engaged until about three-quarters way through when I started to become rather bored with Bourdain's restaurant/cooking memoir. Up until that point I was engrossed. I shall never forget his tip about avoiding seafood on Mondays.
Review by CookieDemon
16/06/2015
(This review also appears on Amazon.co.uk)I really enjoy Bourdain's show `No Reservations' where he visits different parts of the world, experiencing new cultures and cuisine- and have been wanting to read one of his books for a while. This one comprises two of his travel/food memoirs so I thought it would be the ideal read.What I appreciated upon opening the first page was that Bourdain writes in pretty much the same way as he speaks on his programmes- his voice comes through clearly in your head. There is no pretention with him, he is open and honest and whilst he knows his stuff culinary wise, he also doesn't shy away at all from painful/uncomfortable memories. The reader immediately ascertains that he is honest, particularly about his own experiences and his `misspent youth.' I came away from reading this with a lot of respect for the guy.`Kitchen Confidential' recalls Bourdain's early childhood experiences with food and what made him decide to be a chef. It is a real insider's look at the restaurant business within the United States with some thinly veiled tips on how not to operate in a restaurant- as well as what to/not to order on a given day. It is laced with black humour but has its poignant moments too. Bourdain's `rebellious' streak comes to the fore- he can be a real bad-ass on occaision and his struggles with drugs in the 1980's is not held back. Though I enjoyed this book, some of the profanity got a bit dull towards the end- maybe that was because I was just anticipating reading book two of the omnibus?! Overall I give this 3/5.Of the two novels, I much preferred `A Cook's Tour,' as I found myself engrossed in some of Bourdain's eating adventures in far-flung parts of the globe- Cambodia, Tokyo and... Glasgow to name but a few?! It also left me with a burning ambition to visit `The French Laundry' restaurant in California and try Thomas Keller's spectacular sounding menu- El Bulli and Heston Blumenthal's restaurant have now dropped down the list, thanks to this book. Oh well, maybe one day!The book is again humorous and poignant in places, with lots of background to the making of the television show that the novel is based on. It did however leave me with a bit of a sour taste in my mouth with some of the animal slaughtering aspects which wasn't glossed over in any way. It will be a long time before I eat pork again, I can tell you that much- and turkey- and I will never, ever eat a lizard now (not that I had considered it before!). This isn't a book for vegetarians, believe me, though Bourdain of course does respect where his food comes from. Overall, I rate this book 4/5.If you enjoy well written travel and food writing and don't mind profanity-laden sentences, then I would suggest that you check this out!