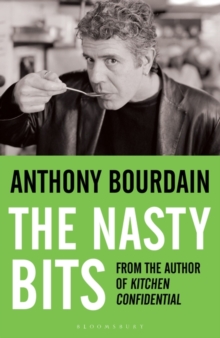 The Nasty Bits : Collected Cuts, Useable Trim, Scraps and Bones
Paperback
Description
For all those Anthony Bourdain fans who are hungering for more, here is Nasty Bits - a collection of his journalism.
As usual Bourdain serves up a well-seasoned hellbroth of candid, often outrageous stories from his worldwide misadventures.
Whether scrounging for eel in the backstreets of Hanoi, revealing what you didn't want to know about the more unglamorous aspects of making television, calling for the head of raw food activist Woody Harrelson, or confessing to lobster-killing guilt, Bourdain is as entertaining as ever.
The Nasty Bits is a rude, funny, brutal and passionate stew for fans and the uninitiated alike. .
Information
Format: Paperback
Pages: 304 pages
Publisher: Bloomsbury Publishing PLC
Publication Date: 01/05/2006
Category: Reportage & collected journalism
ISBN: 9780747579816
Free Home Delivery
on all orders
Pick up orders
from local bookshops
Reviews
Showing 1 - 1 of 1 reviews.
I was not going to write my own review after commenting on Tita's review on the same subject. But my big mouth wouldn't let me as it has not had its fair share of yapping. So here it is. I started reading with feeling of boredom. The bad boy is here again, rambling on about how chefs are like. Didn't he do that already in Kitchen Confidential? However, his poking and prodding on each chosen topics are so ruthlessly albeit comically done that I had to swallow my grudge and read on. I could eventually enjoy this book albeit the occasional gritty feeling akin to scratching blackboards when he mentions the comradeship of chefs yet again. This book is a collection of his essays on various topics: from fat Americans to Singaporean foodies. I guess that alone requires my forgiveness. Columns are not always consistent: some topics can be repeated depending on the circumstances. Reading his book is a rare pleasure for me. It combines two things that I am passionate about in life: food and writing. His style is unique: brutally honest and descriptive. He doesn't shy from using expletives but he stays on the subjects. Moreover, I often agree with him. I catch myself nodding to the book acknowledging some points that I cannot stand either (his "fine dining fatigue" in The Old, Good Stuff. To people who think that excellent lobster comes only in the form of mousse placed in a shot glass placed on top of a big expanse of whiteness drizzled with a few black balsamic dots and streaks of green puree of peas, this piece is for you!). One failure which costs one star is his attempt at fiction. It was simply mushy and tasteless. There is no bite to the story and the ending is too sweet. I think he should stick to describing his experiences. As a closing, let me quote for you his opinion about food lovers of Singapore. He describes the true singaporeans, singaporeans whom I grow up with. To me, this shows the amount of understanding he has on places of his travel. He doesn't just skim the surface, he dives in and paints what he sees with words for all of us to see. "Because Singapore is probably the most food-crazed, lunatic eater's paradise on the planet. We're not talking about "gourmets" here. Singapore's "foodies" are nothing like the annoying, nerdy, status-conscious variety one finds in New York, chattering about Jean-Georges' new place, or how such and such a restaurant lost a star. Singaporeans do not collect dining experiences like stamps, to be discussed or bragged about later. Singaporean are not gastronomes. They simply eat. And living in a country where Chinese, Malay, and Indian cuisines are equally (and proudly) represented, they are accustomed to eating well. When they talk about food they tend to know what they're talking about. They are not snobs and are far more likely to gush about a bowl of noodles at a Mom-and-Pop hawker stand than to be concerned with the new "hot" place. "