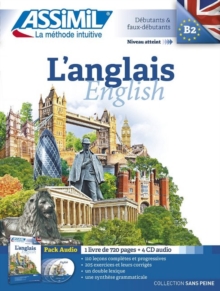 L'Anglais (Book & 4 Audio Cds)
Mixed media product
Description
Level: beginners, false beginners | A1-B2 English learning method.
Latest edition of the English method Assimil bestseller Collection Without Penalty.
Favoring an approach through dialogue, learning intuitively vocabulary and grammatical progression naturally.
The very British humor distilled over 110 Lessons facilitates the mastery of the basics of this language today must.
The recordings show the full texts English lessons and exercises from the book translation .
Theyare interpreted, at a gradual pace, by speakers, native professionals.