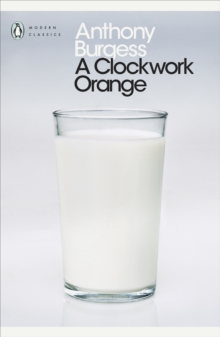 A Clockwork Orange
Paperback
Description
Anthony Burgess's nightmare vision of a society overrun by nihilistic violence and governed by a menacing totalitarian state, A Clockwork Orange includes an introduction by Blake Morrison in Penguin Modern Classics.Fifteen-year-old Alex doesn't just like ultra-violence - he also enjoys rape, drugs and Beethoven's ninth.
He and his gang of droogs rampage through a dystopian future, hunting for terrible thrills.
But when Alex finds himself at the mercy of the state and subject to the ministrations of Dr Brodsky, and the mind-altering treatment of the Ludovico Technique, he discovers that fun is no longer the order of the day.
The basis for Stanley Kubrick's notorious 1971 film, A Clockwork Orange is both a virtuoso performance from an electrifying prose stylist and a serious exploration of the morality of free will.In his introduction, Blake Morrison situates A Clockwork Orange within the context of Anthony Burgess's many other works, explores the author's unhappiness with the Stanley Kubrick film version, analyses the composition of the Nadsat argot spoken by Alex and his droogs, and examines the influences on Burgess's unique, eternally original style.Anthony Burgess (1917-93) was born in Manchester in 1917.
From 1954 to 1960 he was stationed in Malaysia as an education officer - during this time he started writing The Malayan Trilogy.
Diagnosed with an inoperable brain tumour in 1959, Burgess became a full-time writer and went on to write a book a year up until his death in 1993.
His many works include: The Complete Enderby, Tremor of Intent, The Kingdom of the Wicked and A Clockwork Orange.
If you enjoyed A Clockwork Orange, you might like Ken Kesey's One Flew Over the Cuckoo's Nest, also available in Penguin Modern Classics.'I do not know of any other writer who has done as much with language ... a very funny book'William S. Burroughs
Information
Format: Paperback
Pages: 176 pages
Publisher: Penguin Books Ltd
Publication Date: 22/02/2000
ISBN: 9780141182605
Other Formats
Paperback from £6.09
Hardback from £17.79
EPUB from £3.99
eAudiobook MP3 from £5.09
CD-Audio from £13.75
Free Home Delivery
on all orders
Pick up orders
from local bookshops
Reviews
Showing 1 - 5 of 9 reviews.
Previous | Next
Review by stipe168
16/06/2015
written in a whole new language to keep up with the slang of the violent kids of the future. easier to read than you think, and twice as good.
Review by stillbeing
16/06/2015
Just like the film, only so much more deeper. Mind you, it's hard to read without hearing Alex's voice from the film in your head.
Review by ericalynnb
16/06/2015
I thought this book was real horrorshow, an excellent read. Many thought-provoking questions on the nature of good and choice were posed and I enjoyed the exploring them. Personally, I also loved decoding the slang that Burgess created for this book. In addition to being well-written and thought provoking I loved this book because it brought me to a realm that I would never have known in real-life. They say that good girls fall for bad boys, maybe the same is true for books.
Review by billmcn
16/06/2015
Annecdote: my old girlfriend is one of the few people I know who read <i>A Clockwork Orange</i> long before she saw the movie. When she finally did watch it, she thought it was awful. For her, Burgess' novel depicted a gray, grinding, bleakly English world and Kubrick's kitsch 1970s codpiece-and-broad-necktie astheticization completely missed the point. I saw the movie first, and for me it's a classic, but still I see her point, and it's interesting to reimagine Alex as a thick-necked football thug stalking the streets of contemporary London. Makes everything a bit nastier.
Review by sburton
16/06/2015
A Clockwork Orange, strangely enough, is like our generation now. We have gangs that go out and do things they shouldn't just because they can. I thought Anthony Burgess did a wonderful job portraying our society, even though it wasn't written in our time. The whole time I was reading the book, I was tossing around the idea in my head that you could be bad if you wanted to, or you could be good because you're told to. I think everyone goes through this idea at least once in their lifetime, and Anthony Burgess did a good job on this because he is giving characteristics to a fictional person that people can relate to in their lives. I think my favorite part of the book was when Alex was in prison, and he finds the new prisoner lying next to him, causing Alex to lash out. This was my favorite part of the book because prison represents a place of being forced to be good, and you have to do so in order to get out and be back with society. Even though Alex is in this situation, he still lashes out at the prisoner because he wants to, not because he is forced to.I also liked the part of the book where Alex meets with F. Alexander. Because Alexander's hatred of the government, he takes Alex in because of his beating. But, once he realizes who Alex is, he plays the symphony he hates most, causing him to jump out of the window. I thought this part was important because this is the point where Alex breaks most of his bones, causing doctors to operate, which eventually changes him back to his old self. I thought Anthony Burgess did a good job of explaining that you can never change someone, no matter how much you want to.Overall, I thought the book was good, but a little confusing at times because of the language used. But, I did like the idea of choosing between being bad because you want to, or being good because you're told to.
Also in the Penguin Decades series | View all