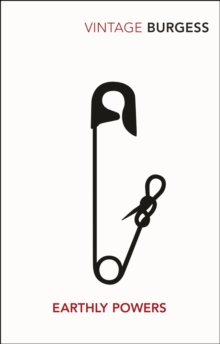 Description
Kenneth Toomey is an eminent novelist of dubious talent; Don Carlo Campanati is a man of God, a shrewd manipulator who rises through the Vatican to become the architect of church revolution and a candidate for sainthood.
These two men are linked not only by family ties but by a common understanding of mankind's frailties.
In this epic masterpiece, Anthony Burgess plumbs the depths of the essence of power and the lengths men will go for it.
Information
Format: Paperback
Pages: 656 pages
Publisher: Vintage Publishing
Publication Date: 01/05/2004
ISBN: 9780099468646
Free Home Delivery
on all orders
Pick up orders
from local bookshops
Reviews
Showing 1 - 5 of 5 reviews.
Review by alpin
16/06/2015
A monumental novel, currently out of print, that has stuck in my mind for thirty years as an all-time favorite but needed to be reread to remind me why. An octogenarian British writer, asked to attest to a miracle that will support canonization of a Pope writes his memoirs, giving us a personal tour of the 20th-century through his life as a homosexual, lapsed Catholic, successful but mediocre writer, and exile. Examines morality, the nature of evil, the role of religious belief and more. Linguistically playful, the novel features one of the best opening lines in literature, and is funny, painful, thought-provoking, entertaining, challenging and rewarding. Thoroughly magnificent.
Review by buendia
16/06/2015
Perhaps the most pretentious, self satisfied book it has ever been my misfortune to read. A big book with small ideas.
Review by beebothezeebo
16/06/2015
Awesome piece of literature, wonderful novel, one of the most powerful authors of our time
Review by briandarvell
16/06/2015
I chose Earthly Powers as my introduction to Anthony Burgess only because I found this novel on my parent's bookshelf. Little did I know that this book was considered by many to be Burgess' pinnacle novel in the form of fiction. Published in 1980, Earthly Powers is a novel which basically outlines the historical situation of western society in the early half of the 20th century and although most of the characters in the novel are fictitious, a lot are based upon real-life people.Earthly Powers heavily discusses the impact and reaction of homosexuality in society during these years. There is serious discussion upon the development and political stances of the Catholic Church and also how these positions affected people. This religious theme was contrasted with further contemplation upon the development of atheism in the heavily catholic families of France and Italy. Burgess also slips in a lot of his own opinions on some of the 20th century's greatest literary figures such as James Joyce, Rudyard Kipling and H.G. Wells and how and why these men were raised into sublimity.The only quality this novel displays which many people might find a hindrance is the heavy use of pretentious vocabulary. There was extensive use of words of which I had no understanding of and had never seen used and although this is good in moderation, when used excessively it becomes quite a disturbance for some people. I would definitely recommend those who decide to read this novel to have a good quality dictionary nearby.To finalize I would state that this book portrays a very original and educational approach to societal development during these seminal years of modern culture and I would recommend this novel to most people who have an open mind about such matters.
Review by simplicimus
23/09/2015
This novel is considered a forgotten masterpiece by many. Maybe it's because of my lack of erudition, but I simply found it slightly contrived and exceedingly boring.