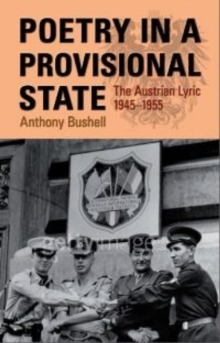 Poetry in a Provisional State : the Austrian Lyric 1945-1955
Hardback
Description
This book comprises of a detailed and original study of the wealth of poetry produced in Austria between the demise of the Third Reich and Austria's re-attainment of sovereignty in 1955.
It offers a distinctive contribution to the topic of literature and war, showing how, in the case of Austria, rejection of war-guilt after WWII produced a marked reluctance to treat the theme of war in literature.
The author also demonstrates the theoretical problems for modern poetry in the handing of historical events.
The emergence of an independent Austria after 1945 took a very different course to that of the two post-war German states.
A detailed and nuanced study in English of the political and cultural re-emergence of Austria up to the signing of the State Treaty in 1955 is still awaited.
This study examines the prolific amount of neglected or unstudied poetry written after 1945 as Austrians engaged with, or evaded, the experience of life under Hitler.
Bushell seeks to offer an original contribution to our understanding of Austrian poetry and the problematic reworking of an Austrian literary identity.
Information
Format:Hardback
Pages:160 pages, No
Publisher:University of Wales Press
Publication Date:30/07/2007
Category:
ISBN:9780708320808