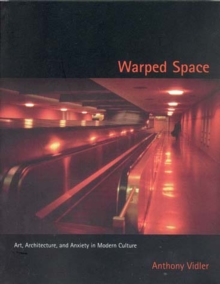 Warped Space : Art, Architecture, and Anxiety in Modern Culture
Paperback / softback
Description
How psychological ideas of space have profoundly affected architectural and artistic expression in the twentieth century. Beginning with agoraphobia and claustrophobia in the late nineteenth century, followed by shell shock and panic fear after World War I, phobias and anxiety came to be seen as the mental condition of modern life.
They became incorporated into the media and arts, in particular the spatial arts of architecture, urbanism, and film.
This "spatial warping" is now being reshaped by digitalization and virtual reality.
Anthony Vidler is concerned with two forms of warped space.
The first, a psychological space, is the repository of neuroses and phobias.
This space is not empty but full of disturbing forms, including those of architecture and the city.
The second kind of warping is produced when artists break the boundaries of genre to depict space in new ways.
Vidler traces the emergence of a psychological idea of space from Pascal and Freud to the identification of agoraphobia and claustrophobia in the nineteenth century to twentieth-century theories of spatial alienation and estrangement in the writings of Georg Simmel, Siegfried Kracauer, and Walter Benjamin.
Focusing on current conditions of displacement and placelessness, he examines ways in which contemporary artists and architects have produced new forms of spatial warping.
The discussion ranges from theorists such as Jacques Lacan and Gilles Deleuze to artists such as Vito Acconci, Mike Kelley, Martha Rosler, and Rachel Whiteread.
Finally, Vidler looks at the architectural experiments of Frank Gehry, Coop Himmelblau, Daniel Libeskind, Greg Lynn, Morphosis, and Eric Owen Moss in the light of new digital techniques that, while relying on traditional perspective, have radically transformed the composition, production, and experience-perhaps even the subject itself-of architecture.
Information
Format: Paperback / softback
Pages: 316 pages
Publisher: MIT Press Ltd
Publication Date: 01/02/2002
Category: Theory of art
ISBN: 9780262720410
Also in the The MIT Press series | View all