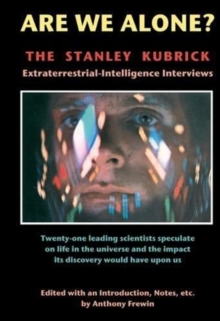 Are We Alone : The Stanley Kubrick Extraterrestrial-Intelligence Interviews
Paperback
Description
When Stanley Kubrick was working on the development of his classic movie, '2001: A Space Odyssey', he arranged that 21 of the leading scientists in the world, speculating on life in the universe and the impact its discovery would have on us, would be interviewed on film.
Kubrick originally intended to use parts of these interviews in 2001, but discarded the idea.
It was suggested that the interviews could be issued as part of a DVD set to celebrate the 40th anniversary of '2001'.
The film could not be found but four binders containing the typed transcripts of the interviews were discovered and these form the basis for this remarkable book.
The whole collection represents a brilliant overview of scientific, philosophical and ethical considerations of the implications of the possibility of other forms of life within the universe.
Information
Format: Paperback
Pages: 265 pages
Publisher: Ashgrove Publishing Ltd
Publication Date: 28/06/2018
ISBN: 9781853981753
Free Home Delivery
on all orders
Pick up orders
from local bookshops