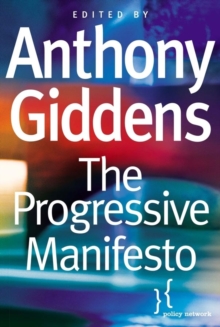 The Progressive Manifesto : New Ideas for the Centre-left
Paperback / softback
Description
This book seeks to develop a new agenda for the centre-left.
During the 1990's, left of centre governments or coalitions came into power in the US, many of the European Union countries, and in societies elsewhere too.
The modernisation of social democracy was crucial to these successes - all centre-left parties that came to power revised and updated their traditional doctrines.
Recent years have seen the widespread return of the right to power, coupled to the prominence of far right parties in many countries. The centre-left must respond. Third-way thinking was a major source of ideological renewal, but today we must move beyond the political formulae of the 1990s. The authors represented in this volume show how.
The papers included were prepared for the summit of progressive leaders held in July 2003.
All have been written by leading experts in their fields.
In his extensive introduction, Anthony Giddens draws the threads together to sketch a powerful and novel left-centre political approach. The book includes contributors from John Kay, Folke Schuppert, Tom Berntley, David Halpern, Gosta Esping-Andersen, Nicola Rossi, David Held, Mary Kaldor, Rebecca Willis and James Wilsdon. Formerly Director of the London School of Economics and Political Science, Anthony Giddens is a leading contributor to political debate around the world.
He is the author of numverous widely acclaimed works including The Third Way (1998) and The Third Way and its Critics (2000).
Information
Format: Paperback / softback
Pages: 232 pages
Publisher: Polity Press
Publication Date: 10/11/2003
Category: Political science & theory
ISBN: 9780745632957
Free Home Delivery
on all orders
Pick up orders
from local bookshops