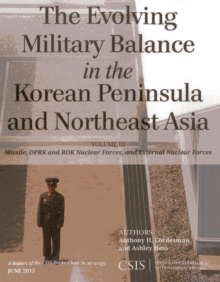 The Evolving Military Balance in the Korean Peninsula and Northeast Asia : Missile, DPRK and ROK Nuclear Forces, and External Nuclear Forces
Paperback / softback
Description
The Evolving Military Balance in the Korean Peninsula and Northeast Asia describes the strategy, force deployments, and the military balance in potential current and future scenarios involving the Democratic People's Republic of Korea, Republic of Korea, People's Republic of China, Japan, and the United States.
The analysis in these volumes shows how tensions between the Koreas-and the potential involvement of the China, Japan, Russia, and the United States-create a nearly open-ended spectrum of possible conflicts.
These range from posturing and threats ("wars of intimidation") to a major conventional conflict on the Korean Peninsula to intervention by outside powers like the United States and China to the extreme of nuclear conflict.
The analysis shows that the Korean balance is sharply affected by the uncertain mix of cooperation and competition between the United States and China.
The U.S. rebalancing of its forces to Asia and the steady modernization of Chinese forces, in particular the growth of Chinese sea-air-missile capabilities, affect the balance in the Koreas and Northeast Asia.
They also raise the possibility of far more intense conflicts that could extend far beyond the boundaries of the Koreas.
Information
Format: Paperback / softback
Pages: 186 pages
Publisher: Centre for Strategic & International Studies,U.S.
Publication Date: 10/07/2013
Category: Politics & government
ISBN: 9781442225190
Also in the CSIS Reports series | View all