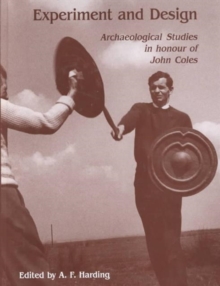 Experiment and Design : Archaeological Studies in Honour of John Coles
Hardback
Description
These essays, in honour of John Coles, reflect his interests in experimental archaeology and in the exploration of wetland sites.
Contents include: Palaeolithic Archaeology: Radiocarbon dating and the origins of anatomically modern populations in Europe ( P Mellars ); The Chauvet cave dates ( J Clottes ); The archaeology of Scotland: The Hidden landscape: the Neolithic of Tayside ( G J Barclay ); The stony limits - rock carvings in passage graves and in the open air ( R Bradley ); Evidence, North and South, in the earlier Neolithic ( R J Mercer ); The birth of the Scottish Bronze Age ( J N Graham Ritchie ); Drinking, driving, death and display: Scottish Bronze Age artefacts since Coles ( A Sheridan ).
Bronze Age archaeology: Bronze Age landscapess in Southern Europe ( G Barker ); From Skane to Scotstown: some notes on amber in Bronze Age Ireland ( G Eogan ); Swords, shields and scholars: Bronze Age warfare, past and present ( A Harding ); Gold reflections ( J J Taylor ); Rise and fall: the deposition of Bronze Age weapons in the Thames valley and the Fenland ( R Thomas ); Bronze Age settlement in south Scandinavia - territorality and organisation ( H Thrane ); Experimental Archaeology: Getting to grips with music's prehistory: experimental approaches to function, design and operational wear in excavated musical instruments ( G Lawson ); Experimental ship archaeology in Denmark ( O Crumli-Pedersen ); Wood-tar and pitch experiments at Biskupin Museum ( W Piotrowski ); The nature of experiment in archaeology ( P J Reynolds ).
Wetland Archaeology: Somerset and the Sweet conundrum ( B Coles ); Paths, tracks and roads in early Ireland: viewing people rather than the trees ( B Raftery ); Underwater medieval sites on Lake Paladru (Isere, France): from rescue excavations to cultural project ( M Colardelle & E Verdel ).
Epilogue: Of weapons and wetlands ( T Champion ). J M Coles - a bibliography.
Information
Format: Hardback
Pages: 200 pages, illustrations
Publisher: Oxbow Books
Publication Date: 01/12/1999
Category: Archaeology
ISBN: 9781900188760