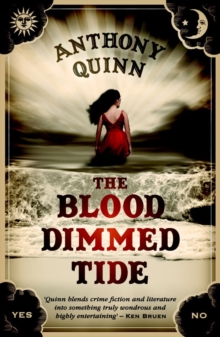 The Blood Dimmed Tide
Paperback
Information
Format: Paperback
Pages: 256 pages
Publisher: Oldcastle Books Ltd
Publication Date: 23/10/2014
Category: Crime & mystery
ISBN: 9781843444657
Free Home Delivery
on all orders
Pick up orders
from local bookshops
Reviews
Showing 1 - 5 of 5 reviews.
Review by atticusfinch1048
16/06/2015
The Blood Dimmed Tide – Highly EntertainingThe Blood Dimmed Tide by Anthony Quinn is a highly entertaining novel that blends crime fiction, literature and Irish folklore in to a wonderful and evocative read. Written about the pivotal period of Irish history in the early twentieth century this really is a brilliant read, written by a knowledgeable and skilful Irish writer in Anthony Quinn.Written through the narration of Mr Adams, a former medical student in London, and a follower and confidant of William B Yeats, the great Irish poet and nationalist. He follows Yates through séances and ghost investigations and is sent to Sligo to investigate the murder and ghost of Rosemary O'Grady. Where he encounters the Royal Irish Constabulary, spies, republicans, smugglers and complete suspicion. While at the same time he has to understand the folklore and ways of mystical Celtic Ireland while the Protestant landowners dance at their tenant's expense.Adams has to work out what are the ghosts and do they really exist? Can the dead speak and what do the murders of Rosemary O'Grady and Captain Oakes have in common. Why do the Crown Spies and the Constabulary have no clues and he realises that as an Englishman he is an outsider and very unwelcome.What he does see is that WB Yeats is beholden to his new wife and her ability to channel the spirit world and confuse him further. Adams comes to realise that he cannot depend on the help of Yeats as at times he really is away with the fairies. The Blood Dimmed Tide is a brilliant short novel with a wondrous mix of crime, history, folklore and literature. It is the sort of mix you would expect not to mix but it really does work especially in the hands of Anthony Quinn. A stunning book well worth reading because you certainly will enjoy the story, and the prose is a pleasure to read.
Review by shizz
27/08/2015
The Blood Dimmed Tide - Anthony QuinnIt seemed to have been a while since Real Readers sent me a book so I was delighted when this thumped through my letterbox. I found this a curious book. It seems to attempt to function on several different levels but never quite seems to hit the mark on any of them. Having said that though I did enjoy reading it. There was much to admire.When I began reading I had to turn back and look carefully at the details of the author and publishing details for it read not as a book of a contemporary writer but an author of the time described in the novel i.e. in the style of a turn of the century novelist. I thought that was very well done. I also liked the chapter headings as tarot cards. I struggled to really get into it to begin with and had to re read the opening chapter more than once, as my attention wasn't captured. The introduction of W.B Yeats did grasp my attention though as he is a poet I admire and I'm guessing Mr. Quinn does too. I like the idea of taking a hero and constructing a novel around that hero but there was something that didn't quite work. I enjoyed the crime story the most. I thought that was the aspect of the book that worked the best with the occult facet complimenting it. I don't like to 'do' spoilers and I apologise if that does happen here but I loved the fact that the 'baddies' were almost the clichéd 'baddies' that used to occur so often in crime novels it was banal but in recent times have been eschewed as being too obvious so it really works as a device here. And I kicked myself for not seeing it coming!! The Irish political situation left me cold not because it was handled poorly here but because politics in general leaves me cold!! I have little doubt that the historical facts are accurate. I knew that Maud Gonne was politically active.I think there are too many sub plots here which had the tactic worked would have given the book a wide appeal but for me it all fell just a little short. There was romance, crime, politics, the supernatural, espionage, and literature, perhaps too much for a relatively short book.I realise that all sounds a little negative and maybe I am contradicting myself when I also say that it is a very worthwhile read.
Review by mexico24
27/08/2015
At first I was not sure what to make of this crime novel, woven with Irish history and myths.Written during a particular period of Irish history, by 1918 the elections proved that Sinn Féin had the majority of the support around Ireland, so this is a particularly important time in political history for both Britain and Ireland. Quinn has weaved both fact and fiction together in an adept way.Quinn writes this through the account of Adams who was a medical student in London and a supporter and friend of William B Yeats the Irish poet.There are murders, ghosts inquires, spies, smugglers and then to add to the mix Irish myths.To the reader initially it sounds like the story is very confusing and a lot to take in but this is a really good read, and well written by the author. It is an unusual story and combination, but it was really enjoyable.
Review by jtck121166
27/08/2015
I wanted to like this, I really did. The premise is intriguing: WB Yeats (or at least his creature) as detective investigating a murder via rosicrucianism or similar; set in 1916 and including a major role for - who else? - Maud Gonne. I wouldn't classify myself as an expert on Yeats, but I've read and studied my fair share. I think there's scope here for great fun.But I'm sorry: try as I might, I just couldn't get in to this novel. The elements are in place, but nothing gels. The author is in places a good phrase-maker, and perhaps herein lies the problem. This is a thriller trying to be literary fiction and falling between the stools. Pace and plot are sacrificed at the purple altars of mood and explication of Irish republican internecine complications. Characterisation isn't so much unconvincing as just plain uninteresting, and before very long one simply can't be bothered to sustain the effort required.
Review by claireh18
27/08/2015
Publication date: 23rd October 2014Publisher: No Exit PressISBN: 9781843444657Score: 4/5Synopsis: London at the dawn of 1918 and Ireland's most famous literary figure, W. B. Yeats, is immersed in supernatural investigations at his Bloomsbury rooms. Haunted by the restless spirit of an Irish girl whose body is mysteriously washed ashore in a coffin, Yeats undertakes a perilous journey back to Ireland with his apprentice ghost-catcher Charles Adams, to piece together the killer's identity. Surrounded by spies, occultists and diehard female rebels, the two are led on a journey along Ireland's wild Atlantic coast, through the ruins of it's abandoned estates, and into it's darkest, most haunted corners. Falling under the spell of dark forces, Yeats and his ghost-catcher come dangerously close to crossing the invisible line that divides the living from the dead.My review:Although I'm not normally interested in reading historical fiction, I happened to see this book's cover picture and found it utterly charming, not to mention a little enticing. So, I'm guilty of completely judging this book by it's cover.This novel has elements of several genres including crime, thriller, romance, espionage, supernatural and the occult, but I think this is what lets it down. I found the content a bit repetitive and the narrative switch between first person by Charles Adams and third person confusing. Some of the issues raised in earlier chapters remained loose ends as the focus of the story kept changing.The descriptive prose about Sligo and the Irish coast at the turn of the century is this book's saving grace. It flows beautifully and make the place appear so charming. I just wish I had enjoyed the rest of the book as much as the cover promised.