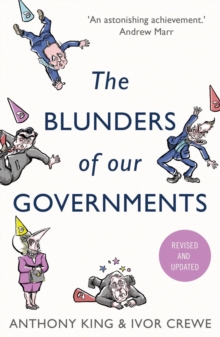 The Blunders of Our Governments
Paperback
Description
With unrivalled political savvy and a keen sense of irony, distinguished political scientists Anthony King and Ivor Crewe open our eyes to the worst government horror stories and explain why the British political system is quite so prone to appalling mistakes.
Information
Format: Paperback
Pages: 512 pages
Publisher: Oneworld Publications
Publication Date: 04/09/2014
Category: British & Irish history
ISBN: 9781780744056
Free Home Delivery
on all orders
Pick up orders
from local bookshops
Reviews
Showing 1 - 1 of 1 reviews.
Review by Eyejaybee
16/06/2015
Professor Anthony King and Sir Ivor Crewe have compiled a highly entertaining anthology of governmental incompetence over the three decades from Margaret Thatcher's arrival in Downing Street to the last general election in May 2010. They are also exemplary in their even-handedness: they do not adopt a partisan stance in their exposition of the array of blunders that they include in this selection, and they do concede that the cast of Ministers and Prime Ministers whom they describe did also achieve and lasting successes during their respective times in office. The blame is placed squarely on the shoulders of ministers' failure to undertake sufficient reviews during the initial formulation of policy. Officials (i.e. civil servants) are not blameless but they are assigned less of the responsibility than their ministerial overlords. ['Phew! That was close!] The opening section is devoted to a definition of what they consider constitutes a blunder, and this is then followed with a dispassionate explanation of how ten of the greatest blunders of that period came to pass. The third section various causes of these astounding blunders, while the final section considers how they might have been avoided.The descriptions of the blunders are simultaneously amusing and enraging. Some of the woeful tales seem desperately reminiscent of some of the more outlandish episodes of 'Yes Minister', and have the reader sniggering along until he suddenly remembers that, as a beleaguered taxpayer, he had been paying for all of it. The blunders under review are varied in their scope but frighteningly similar in their woeful waste of public money that might, if wiser councils had prevailed, have been utilised to far greater benefit. It is interesting to see how completely of these scandals had faded from memory, even though they had been the subject of huge public outrage at the time. Some of them remain more prominently in the memory than others (the poll tax fiasco during the early 1900s being a prime example), though the debacle of the Rural Payments Agency, presided over with imperious incompetence by Margaret Beckett had slipped my mind.Very few Whitehall departments escape unscathed, and the Department for Education and Employment (forerunner of my own Department for Education) was guilty of one of the greater escapades - the ill-fated attempt to introduce individual learning accounts at the start of the current millennium.The accounts are detailed without being at all inaccessible. One is left wishing that Ministers had been given a similar volume as a handbook of what might, so easily, go astray with even the best-intended policies.