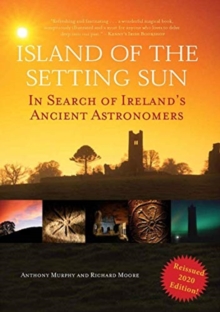 Island of the Setting Sun : In Search of Ireland's Ancient Astronomers
Paperback / softback
Description
Ireland is home to some of the world's oldest astronomically-aligned structures, giant stone monuments erected over 5,000 years ago.
Despite their apparent simplicity, these megalithic edifices were crafted by a scientifically knowledgeable community of farmers who endeavoured to enshrine their beliefs in a stellar afterlife within the very fabric of their cleverly-designed stone temples. Finally back in print, this reissued edition presents evidence suggesting the builders of monuments such as Newgrange and its Boyne Valley counterparts were adept astronomers, cunning engineers and capable surveyors.
Their huge monuments are memorials in stone and earth, commemorating their creators' perceived unity with the cosmos and enshrining a belief system which resulted from a crossover between science and spirituality. As investigation of this awe-inspiring civilisation of people continues on many levels, evidence is emerging that significant archaeological sites dating from deep in prehistory are linked - not just through mythology, archaeology and cosmology - but through an arrangement of complex, and in some cases astonishing, alignments.
Some of these alignments of ancient sites stretch from one side of Ireland to another. While the accounts of the lives of some prominent Irish saints appear to be steeped in folklore and mystery, it seems from new interpretations of the literature that the cosmic world view which existed in Neolithic Ireland experienced a continuity right into the Early Christian period. Join us on this fascinating exploration of stones, stars and stories. "The sheer amount of information contained within the book is mind-boggling.
It is well thought out and structured... The more you read the evidence the more convinced you become." - Astronomy& Space magazine "Refreshing and fascinating . . . a wonderful magical book, sumptuously illustrated and a must for anyone who loves to delve deep into our past." - Kenny's Irish Bookshop "A fascinating insight into Ireland's ancient burial sites" - Irish Independent "A monument" - Drogheda Independent "It is a beautiful book and very well written.
The information that you collected is outstanding." - Barbara Carter, co-author, The Myth of the Year and The Goddess and the Bull "The authors... reach interesting and challenging conclusions about the significance of ancient astronomical knowledge.
The book is jammed with colour illustrations, maps and photographs.
A thoroughly interesting read!" - Archaeology Ireland "An essential book that demonstrates just how much the beliefs and practices of our ancestors were influenced by the movement of the stars, in particular those of the constellation Cygnus - the celestial swan and Northern Cross - once seen as a source of life and the destination of the soul in death.
A must have tome for all those passionate about what remains of our fast disappearing ritual monuments of the prehistoric age." - Andrew Collins, author of The Cygnus Mystery
Information
Format:Paperback / softback
Pages:352 pages, 170+
Publisher:The Liffey Press
Publication Date:01/09/2020
Category:
ISBN:9781916099852
Also by Anthony Murphy