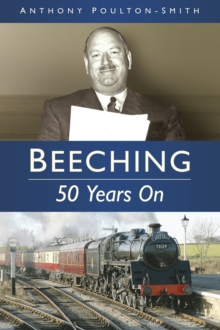 Beeching: 50 Years On
Paperback / softback
Description
In 1963 Dr Beeching's infamous report signalled the end for over 15,000 miles of track, a third of Britain's stations, and for 70,000 jobs, as well as making irrevocable changes to the way of life of many consumers.
Much misery was caused and Beeching's name was muddied, but in hindsight the report probably did more than any other single factor to preserve the nation's railway heritage.
Without the Beeching cuts, much of the locomotives, stock, tracks, signals and signs would have crumbled, been forgotten or rotted.
However, the gentle railway gradients lend themselves perfectly to walkways and cycle paths; buildings have been refurbished; memorabilia now commands prices at auction which would astonish those who painted the metal. And of course, the heritage lines continue to draw many thousands of visitors each year.
After the initial shock of the cuts, this fresh appraisal considers these benefits and more, which may not have come about without the Beeching Report.
Information
Format: Paperback / softback
Pages: 176 pages
Publisher: The History Press Ltd
Publication Date: 01/02/2013
Category: British & Irish history
ISBN: 9780752480923
Also by Anthony Poulton-Smith | View all