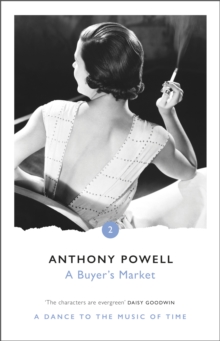 A Buyer's Market
Paperback
Description
The second novel in Anthony Powell's brilliant twelve-novel sequence, A Dance to the Music of Time
Information
Format: Paperback
Pages: 288 pages
Publisher: Cornerstone
Publication Date: 06/01/2005
ISBN: 9780099472391
Free Home Delivery
on all orders
Pick up orders
from local bookshops
Reviews
Showing 1 - 5 of 5 reviews.
Review by jmoncton
16/06/2015
Book 2 of 12 in Anthony Powell's epic <i>A Dance to the Music of Time</i> classic. The story continues as Jenkins, now out of school, negotiates the complexities of the social world. Widmerpool plays a pretty large role in this story - mostly as an example of what not to do when invited to a party. Similar to the way the characters in this novel seem connect and then disconnect with each other, I find my interest waxes and wanes as I listen to this story. There are parts that I find amazingly funny, descriptive and vivid and then there are times when I find my mind has wandered in a direction other than this novel. Although the narration is excellent (Simon Vance - how could it be anything but perfect?), I am curious if this story requires more concentration than I am giving it in audio. Maybe I should read book 3 in print or follow along?
Review by stillatim
16/06/2015
Nothing in the first novel of ADMT really prepares you for this. There you get short introductions to characters, traditional plot movements, transparent prose and above all variety. With A Buyer's Market we're suddenly in the realm of Proust volume three, which is pretty much a party described over hundreds of pages. Say what you will about Powell. This is shorter than Le Côté de Guermantes. I wonder if Marias, anglophile that he is, took as much from Powell as from Proust to write Your Face Tomorrow? <br/><br/>Anyway, as in Proust (and Marias), we're pretty much without plot, something of which I often disapprove. Things happen, but they're reported in dialogue rather than narrated, and the things that happen are, unsurprisingly given that the narrator is in his mid twenties, mostly sex and drinking and the results of sex and drinking, until Mr. Deacon dies, probably due to drinking. There's no grit here, just humor. It could easily be Wodehouse, with less plot. <br/><br/>But the form of the novel is breath-taking. We begin, for no obvious reason, with Mr. Deacon, his late-decadent, Alma-Tadema-esque painting, and his antique shop. We conclude with his death, which is followed, uncomfortably, by the narrator fucking Mr. Deacon's young lady friend (who, uncomfortably, has fooled Widmerpool into paying for an abortion, probably by promising him her favors, and then not actually given him any favors) in Deacon's antique shop.<br/><br/>So the narrator's generation takes over from that of their parents: Deacon dies, Uncle Giles is rendered more and more silly, and even the high and mighty end up looking much more down to earth. Characters from 'A Question of Upbringing' have attained some notoriety in their fields. The musical analogy starts to make sense, too, both with the 'return' of Deacon at the end, and with motifs from AQU showing up again (notably the car accident). <br/><br/>In short, ABM is funnier than AQU, but not as entertaining. As an artifact to think about, though, it's much more impressive. Also, Powell's prose becomes more Jamesian here. I can't remember if that keeps up through the other volumes, or not.
Review by isabelx
16/06/2015
However, Gypsy Jones' comment, when thought of later, brought home the impossibility of explaining Widmerpool's personality at all briefly, even to an sympathetic audience. His case was not, of course, unique. He was merely one single instance, among many. of the fact that certain acquaintances remain firmly fixed within this or that person's particular orbit; a law which seems to lead inexorably to the conclusion that the often repeated saying that people can 'choose their friends' is true only in a most strictly limited degree.This book is set around 1928, by which time Nicholas Jenkins is aged about 24 and has a job in publishing. It revolves around a series of social events, starting with the day he attends a dinner party at the Walpole-Wilsons, whose niece Barbara he has been in love with for the past year, and goes on to a ball. While walking homewards with Widmerpool, he meets an old friend of his parents, the artist Mr. Deacon and his young friend Gypsy Jones, and they then come across Stringham, and they all end up at a party held by Mrs Andriadis, the former mistress of a Balkan royal and current lover of Stringham, During the course of the book, Nicholas keeps meeting the same people at house parties, birthday parties and funerals as the dance of life continues.I have never liked Nicholas, as he is too passive and for all his interest in the interactions of his circle of friends and acquaintances and what drives them, he is a bystander rather than a participant in their lives. I know he doesn't care for Widmerpool, but he has known him for a long time and it is really bad that he doesn't tell him that Gypsy was already 'in trouble' before Widmerpool met her, and just lets him go ahead with paying for her abortion.
Review by Kristelh
16/06/2015
The second book of Anthony Powell's A Dance to the Music of Time has the young Jenkins entering life as a young adult, starting in business, entering society and surveying the available girls. This is a time where there is a shortage of men following WW2. Jenkins feels he is starting to live life.
Review by eadieburke
27/01/2016
I enjoyed this 2nd book as much as the 1st book. It was interesting to see how the characters are progressing in their life and also the introduction of new characters. Powell's writing is engaging and very poetic. It's best to read these books in order as the story builds upon the last book. I'm looking forward to reading book 3 next. <br/>