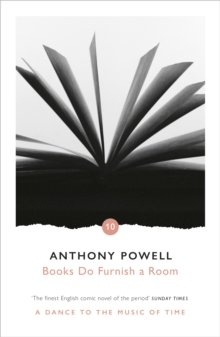 Books Do Furnish a Room
Paperback
Description
The tenth novel in Anthony Powell's brilliant twelve-novel sequence, A Dance to the Music of Time
Information
Format: Paperback
Pages: 256 pages
Publisher: Cornerstone
Publication Date: 07/07/2005
ISBN: 9780099472490
Free Home Delivery
on all orders
Pick up orders
from local bookshops
Reviews
Showing 1 - 3 of 3 reviews.
Review by DinadansFriend
16/06/2015
The War is over, and Nick Jenkins witnesses the beginning of Post-war Britain. Widmerpool is at last successful, and has fallen to marrying Pamela Flitton. It won't end well, I'm afraid.
Review by Eyejaybee
16/06/2015
This is the tenth volume of Powell's autobiographical epic, "A Dance to the Music of Time", and his fictional avatar Nick Jenkins returns once more to London's literary world after securing his release from military service. It is now the late 1940s and Jenkins is "doing the books" for the new politico-literary magazine "Fission" while also struggling to complete his own latest work, 'Borage and Hellebore', an exegesis of Robert Burton's classic Renaissance volume, 'The Anatomy of Melancholy'. Working for Fission brings Jenkins back into regular contact with J G Quiggin who has now relinquished his own aspirations as an author and taken to publishing. The magazine is edited by Lindsey Bagshaw, known to all his acquaintances as 'Books Do Furnish a Room' Bagshaw, or simply 'Books'. He is a veteran journalist and lifelong student of the numerous strains of socialism. Jenkins also makes the acquaintance X Trapnel, a highly accomplished yet dangerously volatile writer who strides around the icy capital in an old RAF greatcoat while brandishing a swordstick. Jenkins is surprised to find that Kenneth Widmerpool, now a Labour MP and recently appointed as Principal Private Secretary to a member of the Cabinet, is involved with the magazine as one of its financial backers and a regular columnist. In this latter role he churns out wordy pieces espousing the merits of increased cultural and trade links with the Soviet bloc countries.After an inauspicious first encounter Trapnel becomes utterly enchanted by Pamela Widmerpool's wife. Pamela has hitherto been a fairly ephemeral character but takes a more prominent role in this volume, leaving her husband to set up home with Trapnel in the dim hinterland of Kilburn. Needless to say, life with Pamela is far from tranquil, which drags Trapnel down, and compromises his health (he has never been physically robust) and his writing. The portrayal of Trapnel is based upon the equally melancholic life of Julian Maclaren-Ross, who promised so much but died regrettably young without ever fulfilling his potential.As Jenkins becomes more deeply immersed in Burton's work he sees ever more characteristics of different forms of melancholia among those people with whom he works, and Trapnel in particular. Trapnel does display a certain style, but is ill-equipped for the vicissitudes of post-ar London, and the Dickensian winter that shows no sign or thawing.Often very funny this novel is also very closely observed and offers pellucid insight into the difficulties endured by the professional writer.
Review by eadieburke
27/01/2016
Book Description<br/>This is the 10th book in Anthony Powell 19s universally acclaimed epic A Dance to the Music of Time which offers a matchless panorama of twentieth-century London. Now, for the first time in decades, readers in the United States can read the books of Dance as they were originally published 14as twelve individual novels 14but with a twenty-first-century twist: they 19re available only as e-books.<br/><br/>My Review<br/>This was another good read from A Dance To The Music of Time. The tenth volume, Books Do Furnish a Room (1971), finds Nick Jenkins and his circle beginning to re-establish their lives and careers in the wake of the war. Nick dives into work on a study of Robert Burton; Widmerpool grapples with the increasingly difficult and cruel Pamela Flitton 14now his wife; and we are introduced to the series 19 next great character, the dissolute Bohemian novelist X. Trapnel, a man who exudes in equal measure mystery, talent, and an air of self-destruction.<br/><br/>