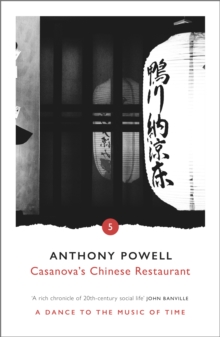 Casanova's Chinese Restaurant
Paperback
Description
The fifth novel in Anthony Powell's brilliant twelve-novel sequence, A Dance to the Music of Time
Information
Format: Paperback
Pages: 240 pages
Publisher: Cornerstone
Publication Date: 03/03/2005
ISBN: 9780099472445
Free Home Delivery
on all orders
Pick up orders
from local bookshops
Reviews
Showing 1 - 5 of 5 reviews.
Review by Eyejaybee
16/06/2015
In this fifth volume of his epic roman fleuve Powell introduces us to the chaotic musical community in pre-war London, and in particular to the troubled genius of a composer, Hugh Moreland (apparently closely based upon Constant Lambert). As always with Powell, the humour is sharp and effective, though constantly laced with an undercurrent of melancholia.Widmerpool is absent for most of the novel, making just a brief appearance in which he expressed his expectation of a great social career to come owing to his acquaintance with the Prince of Wales (soon, briefly, to be Edward VIII) and Mrs Simpson.Yet again we seem to learn little about the narrator, Nick Jenkins, though we learn more in this volume about his in-laws, the unorthodox Tolland family.The Dance to the Music of Time sequence is a marvellous social history, and this is one of the most entertaining volumes. Definitely worth reading.
Review by mlbelize
16/06/2015
I'm still enjoying this 12 book saga of Nicholas and his friends as they mature, marry, some divorce, and some die. Although Jenkins friends come into and go out of his life for periods of time, we are brought up to date with their lives, accomplishments and disappointments in each book as they are interwoven with that of Jenkins. Very good!
Review by Eyejaybee
16/06/2015
I find it very difficult to explain the charm of Anthony Powell's autobiographical roman fleuve, A Dance to the Music of Time, though the attraction is undeniable. As with the previous volumes, very little actually happens, and we continue to next to nothing about Nick Jenkins, the narrator and clear avatar for Powell himself.This particular instalment immerses us in the chaotic classical music community of pre-war London, and introduces the troubled genius of composer Hugh Moreland (apparently closely based upon English composer Constant Lambert, whose son Kit, incidentally, would later discover The Who in the early 1960s). Moreland will emerge as one of Jenkins's closest friends, though the initial impression of him is less positive. In addition to Moreland we also meet Mreland's wife Matilda, an aspiring actress and former mistress of business magnate Sir Magnus Donners (who has at various times been a patron of Moreland himself), the querulous critic Maclintick and his shrewish wife Audrey. We are also treated to the return of some old friends, with cameo appearances by Mark Members and J G Quiggin (still locked in their rivalry, each vying for literary supremacy over the other) and a very humorous tour de force from Charles Stringham, now a mere shadow of his former resplendent self. The egregious Widmerpool is back, too, though in this volume he is more peripheral than in the preceding books, and his presence is restricted to a chance encounter in a hospital where he is being treated for "a slight nuisance with boils" followed by a luncheon engagement in which he treats Jenkins to an unintentionally humorous account of his recent encounter with the Prince of Wales and Mrs Simpson, shortly before his all-too-brief succession as Edward VIII, and Mrs Simpson. I have recently been reading a lot of P G Wodehouse whose marvellously entertaining novels similarly evoke a now distant world in which all the principal characters live in a small sector of London bounded by Oxford Street to the north and The Mall to the south. Wodehouse's humour is direct - pure farce delivered in beautiful prose. Powell's humour is more subtle, and inextricably interlaced with a surging melancholy, but no less powerful or engaging.
Review by isabelx
16/06/2015
Sunday luncheon at Katherine, Lady Warminster's, never, as it were, specially dedicated to meetings of the family, had in the course of time grown into an occasion when, at fairly regular intervals, several - sometimes too many - of the Tollands were collected together. Now and then more distant relations were present, once in a way a friend; but on the whole immediate Tollands predominated. Everyone expected to meet their 'in-laws'; and, among other characteristics, these parties provided, at least superficially, a kind of parade of different approaches to marriage.I don't know whether Anthony Powell thought that he hadn't given Nick enough friends, wanted a reason for him to be involved in another of the arts, or thought that the meristems of his existing friends and on-laws weren't interesting enough, but the fifth book begins with a flashback to the time of book 2. Nick meets Mr Deacon while waiting for Barnby in a pub, and is introduced to four of his friends, Moreland the composer, Maclintick and Gossard who are music critics and Carolo, a famous violinist. Back in the present, Nick's in-laws are worrying about the Abdication Crisis and the Spanish Civil War, as Frederica is a lady-in-waiting and Erridge decides to go to Spain (although his family are unable to picture him actually taking part in the fighting). Nick's attention is focussed on more personal matters, such as his wife's miscarriage and the relationships of his new friends, concentrating on a couple of marriages that are less happy and more unstable than those in "At Lady Molly's".
Review by eadieburke
27/01/2016
I enjoyed this 5th installment of Dance To The Music of Time very much. Some of the things that happened in this segment were: The book opens with reminiscences of the late-20s/early-30s, concerning Nick's first meetings with Mr Deacon, Maclintick, Gossage, Carolo, Moreland and others, culminating at the point of Nick and Isobel's marriage, of which little is revealed.<br/>1936 sees Nick lunching with various of the Tollands at Lady Warminster's. Erridge leaves for the Spanish Civil War. Nick visits Isobel in hospital where he meets Moreland attending his wife Matilda, who is about to give birth, and also encounters Widmerpool. Moreland and Nick visit the Maclinticks.<br/>In late 1936 Matilda loses her baby. Mrs Foxe gives a party for the first performance of Moreland's new symphony; Moreland has fallen for Priscilla Tolland; the Maclinticks row, and Stringham, now a recovering alcoholic, puts in an unexpected appearance but is removed by Miss Weedon.<br/>In Spring 1937 the death is announced of St John Clarke; Erridge is back from Spain; Maclintick is abandoned by his wife and commits suicide; Priscilla becomes engaged to Chips Lovell.<br/>I would highly recommend this book if you are interested in this time period.