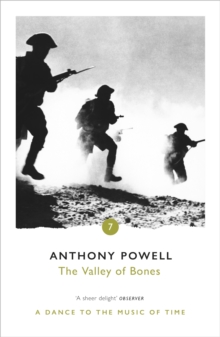 The Valley of Bones
Paperback
Description
The seventh novel in Anthony Powell's brilliant twelve-novel sequence, A Dance to the Music of Time
Information
Format: Paperback
Pages: 256 pages
Publisher: Cornerstone
Publication Date: 05/05/2005
ISBN: 9780099472469
Free Home Delivery
on all orders
Pick up orders
from local bookshops
Reviews
Showing 1 - 5 of 6 reviews.
Previous | Next
Review by devenish
16/06/2015
For me personally 'The Valley of Bones' stands out as the best and funniest of this excellent series. It takes Nicholas Jenkins into the Army at a time just prior to the beginning of the Second World War. Second Lieutenant Jenkins is here involved with his Company Commander,Captain Gwatkin as well as a number of new and mostly engaging characters and a completely different world from that in the preceding six volumes. We also meet once more,but in a new guise, the monstrous Widmerpool.
Review by soylentgreen23
16/06/2015
It had long been suggested to me by my father that I should read something of Powell's, though I was long reluctant to do so. I think that now I know why - I didn't enjoy this book any more than I enjoyed my father's other suggestions, and having read it I felt a distance between us that would be hard to overcome. "The Valley of the Bones" is not a bad book, and my review is somewhat harsh for personal reasons, but it left me dry and untouched, the language too flowery and too constipated to flow easily into my memory.
Review by Eyejaybee
16/06/2015
This is the first of the three volumes of the "Dance to the Music of Time" sequence set in the Second World War. Nick Jenkins, 34 when the war broke out, has managed to attain a minor commission and goes off to join an unspecified Welsh regiment to undergo his training. After an early stint in Wales the regiment decamps to Northern Ireland.Powell captures the tedium experienced by so many newly-recruited troops as they wait for an operational posting during the early stages of the war quite magnificently. Jenkins is pleased to have managed to get recruited in the first time, but becomes enmeshed in the minutiae of the petty squabbles that will always abound when too many men are cooped up too closely with nothing worthwhile to do.The portraits of Captain Rowland Gwatkin and the dissipated, though immensely likeable, Bithel are particularly finely drawn. Like so many of the volumes in this masterful sequence there is a strong undercurrent of melancholia lying beneath the veneer of humour. There is less dependence upon some of the more significant figures from the earlier novels - Widmerpool plays virtually no part in proceeding apart from a brief cameo at the end, and Moreland, Templer, Quiggin and Stringham are only referred to a couple of times in passing. However, this novel fits seamlessly within the sequence, and advances the plot confidently.Overall I would describe this as one of the strongest novels in one of the finest sequences.
Review by Eyejaybee
16/06/2015
This seventh volume of Anthony Powell's majestic semi-autobiographical roman fleuve opens with Nicholas Jenkins arriving in North Wales to join his regiment in the very early days of the Second World War. he has managed to secure a commission as a second lieutenant, and finds himself under the command of Rowland Gwatkin. Before the war Gwatkin had worked in a bank in Wales (most of the members of the 'other ranks' in the regiment were drawn from the same area where they had been miners) and he seems to have a romantic fascination with every aspect of army life, though he seldom demonstrates the skill to carry things through.This is the first of three volumes of 'A Dance to the Music of Time' that cover the Second World War, and, taken together they constitute one of the finest accounts of that conflict. Jenkins does not see active service in any theatre of war, and spends much of his time engage in routine regimental duties, but this gives him a marvellous opportunity to exercise his laconic observation.Among Jenkins's fellow subalterns are Idwal Kedward, an ambitious and capable young man endowed with extraordinarily blunt speech, and Bithel (we never learn his forename) a down at heel opportunist who is wholly out of his depth but desperate to perform as well as he can. Bithel's greatest problems arise from his occasional but ferocious drunkenness and the various myths he has promulgated about himself and his background (claims to be a brother of the officer of that name who secured a VC in the 1914-18 War, and to have played rugby for Wales in his youth are just two examples).The character of Bithel is a prime example of Powell's dexterity at blending humour with an underlying melancholy (perhaps the emotion that most powerfully runs through the whole sequence). Steeped in inadequacy, Bithel somehow manages to overcome, or at least dodge the plethora of challenges that come his way.As with most of the rest of the novels in this sequence, nothing much happens, but the book is utterly gripping. Another triumph.
Review by Kristelh
10/11/2015
The 7th book in A Dance to the Music of Time. The book is set at the beginning of England entering into war with Hitler's Germany. Our narrator, Jenkins is at the Anti-Gas Welfare training school set in Wales. Jenkins is in charge of how his men make beds. We are introduced to some new characters; Bithel, Gwatkin, Pendry, Pennystone, Jimmy Brent (the man who had an affair with Jean). While on visit, Isobel goes into labor but Jenkins has to leave. We learn that he has a baby girl. In the end, due to mess ups, Gwatkin is relieved and Jenkins is sent back to the Deputy Assistant Adjutant General where he discovers Widerpool.