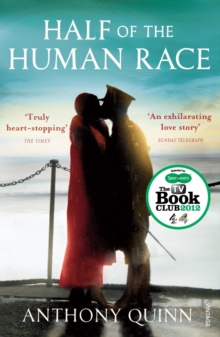 Half of the Human Race
Paperback
Description
Summer of 1911. English society is on the brink of change. The streets of London ring with cheers for a new king's coronation and the cries of increasingly violent suffragette protests.
Connie Callaway, fired up by the possibilities of independence, wants more than the conventional comforts of marriage.
Spirited and courageous, she is determined to fight for 'the greatest cause the world has ever known'. Will Maitland, the rising star of county cricket, is a man of traditional opinions.
He is both intrigued and appalled by Connie's outspokenness and her quest for self-fulfilment.
Their lives become inextricably entangled just as the outbreak of war drives them further apart.
Buffeted and spun by choice and chance, Connie and Will struggle against the aftershocks of war and the changes it wreaks.
This is a deeply affecting story of love against all the odds.
Information
Format: Paperback
Pages: 496 pages
Publisher: Vintage Publishing
Publication Date: 01/01/2012
ISBN: 9780099531944
Free Home Delivery
on all orders
Pick up orders
from local bookshops
Reviews
Showing 1 - 3 of 3 reviews.
Review by justininlondon
16/06/2015
This is one of those books that, in spite of lots of what I perceived to be writing flaws (far too much telling not showing, 'head popping' between the two main characters, even mid-paragraph), I nonethless enjoyed thoroughly. Charming characters, interesting story combining the world of professional cricket, the suffragette movement and the First World War. Yes, it was never that convincing why the two main characters were in love with one another (or even right for one another) or why our female protagonist Connie acted as she did (her commitment to the suffragette movement was never really convincing). Yes, it seemed a somewhat wasted opportunity to really get the reader to understand the suffragette movement; we only had a small (and not compelling) glimpse of it from one character despite it apparently being a key theme of the book. Yet, for me at least, it was still a sweet romantic story, told with affection and interest.
Review by PilgrimJess
16/06/2015
A modern Jane Austen or like a cricket match, lots of hanging around with not much action, maidens and dot balls, then a flurry of action, the ring of willow as the ball races to the boundary?This book is set in and around London in the 1910s. A time of great change in the city and the country as Queen Victoria dies and women's rights come to the fore with the suffragette movement. The two main characters are Will Maitland, an ex-lawyer turned professional cricket player from an upper class family who believes in nothing other than scoring runs for his county and Constance (Connie) Callaway, a independently minded woman from a middle class family who has seen her ambitions of becoming a surgeon thwarted when her family's circumstances changes after the death of her family and the intransigence of a male dominated society. Connie believes in women's suffrage and is gradually drawn into the more violent elements of the struggle. Will wants to marry Connie but she is unwilling to give up her independence fearing that she will regret it in later life and questions Will's motives in asking her. Then Will, like so many of his generation, goes to fight in the trenches of WWI and begins to question his own earlier beliefs. This becomes a 'will (forgive the pun) they won't they' kind of tale.The two main characters for me are well drawn but in many ways it is the supporting cast which are the ones of real interest. We have Tam, Wills best friend, an aging cricket star of some renown who despite being regaled wherever he goes is broody but basically decent and desperately lonely. Then there is Connie's friend Brigstock, an aging male painter who gives another differing view of female suffrage. Then in counterpoint we have Connie's own family, and in particular her sister Olivia, who gives again another view of female emancipation but this time from a female viewpoint.Quinn paints a reasonable scene of London life and of the fight for female suffrage and the cricketing scenes are not overly taxing or technical for the non-fan. Plus you would have to be pretty stone hearted not to be moved by the scenes of the wasted lives at the battle of the Somme. However, and perhaps it is merely the fault with the cover picture depicting as it does an officer in uniform, the novel just takes too long to get this point with some ambiguous gaps in continuity IMHO. Overall this is not a bad read in that I at no stage felt like throwing in the towel but like a long drawn cricket match not one that will live in the memory for any great length of time.
Review by jayne_charles
27/08/2015
If I was ever tempted to see the suffragette movement as a small group of women who chained themselves to railings and immediately forced the government to capitulate to their demands, I'm not tempted to do so after reading this. It brings to life the injustices suffered by women at that time, the scale of the struggle, and the contempt with which suffragists were held at the time – even by other women. It conveys the sense of frustration felt by the oppressed in the face of the complacent I'm-alright-Jack attitude of those who are not. For a white male author (not traditionally a disadvantaged demographic) to have brought this to life made it even more of a triumph in my eyes.