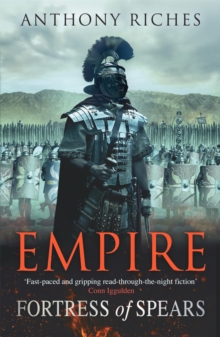 Fortress of Spears
Paperback
Part of the Empire series
Description
'A master of the genre' The Times The Romans have vanquished the rebel alliance; Calgus, Lord of the Northern Tribes, is the prisoner of the chieftains he once led. And the Roman leader has an audacious plan to capture Dinpaladyr, the barbarians' fortress of spears.
Marcus Aquila - burning for revenge on an enemy that has killed one of his best friends - rides north with the Petriana cavalry. He believes his disguise as Centurion Corvus of the 2nd Tungrians is still holding.
But he is just a few days ahead of two of the emperor's agents, sent from Rome to kill him. Pitiless assassins who know his real name, and too much about his friends.
Information
Format: Paperback
Pages: 400 pages, no
Publisher: Hodder & Stoughton General Division
Publication Date: 29/03/2012
Category: Historical fiction
ISBN: 9780340920381
Free Home Delivery
on all orders
Pick up orders
from local bookshops
Reviews
Showing 1 - 1 of 1 reviews.
Review by DWWilkin
16/06/2015
I am continuing with the series, for the one fault, that our protagonist is a super-hero, with comic book like powers continues to be predominant, the background history and the plot adds colour to a part of history I have not investigated fully and give the nod to Riches for it appears that he has done so. At least enough to craft a good man's adventure story against that backdrop.Once again the cohort is called on to do duty, and they march forth gathering to them additional misfits that swell our hero's retinue. He soon will have more friends to guard his back then the emperor and the Pretorian Prefect who wishes him dead. Once again that subplot appears, and I fear it will appear continuously. Even when in makes little sense at all. Here, the enemies are so far removed, and already hunting this one man has been so costly, one would think that it has run its course. That the logic of it diminishes adds to the strikes against the story. Drama=Conflict, but there is already more than enough conflict fighting the war and the internal politics of the cohort that one does not need this external plot to drive the story. Riches is too attached to this mystery which it appears he wants to make his hero with an added depth to his character. Plenty of time to explore that when the character returns to Rome. However the Hungarian Auxiliary Cohort is becoming a little too invincible as well. Beginning to eclipse the legionnaires that they SUPPORT.Other tales of Roman Soldiers show, and my knowledge of the period adds, that an auxiliary cohort is not trained to the same level of a legion, where the soldiers have been in training since they were children. There should be plenty of trouble for a unit of auxiliaries to get into, but now we seem to be creating illogical and unhistorical situations for our hero to go win and drags along a unit that would not be given the task over that of a cohort of legionnaires. All that aside, and suspending my disbelief in this, I can find the tale interesting, though better survived if the three main problems, the Heroes Comic Book like superiority, his evil enemies in Rome who want him dead, and his leadership in a group of auxiliaries instead of legionnaires, had been dealt with.