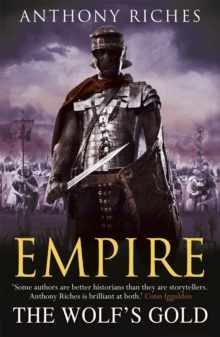 The Wolf's Gold: Empire V
Paperback
Description
'A master of the genre' The TimesFresh from their victory in Germania, Marcus Aquila and the Tungrians have been sent to Dacia, on the north-eastern edge of the Roman Empire, with the mission to safeguard a major source of imperial power.
The mines of Alburnus Major contain enough gold to pave the road to Rome.
They would make a mighty prize for the marauding Sarmatae tribesmen who threaten the province, and the outnumbered auxiliaries are entrusted with their safety in the face of a barbarian invasion.
Beset by both the Sarmatian horde and more subtle threats offered by men who should be their comrades, the Tungrians must also come to terms with the danger posed by a new and unexpected enemy.
They will have to fight to the death to save the honour of the empire - and their own skins.
Information
Format: Paperback
Pages: 416 pages, Maps
Publisher: Hodder & Stoughton General Division
Publication Date: 10/10/2013
Category: Historical fiction
ISBN: 9781444711882
Free Home Delivery
on all orders
Pick up orders
from local bookshops
Reviews
Showing 1 - 1 of 1 reviews.
Review by DWWilkin
27/08/2015
Moving on to Book 5 we know what we can expect in the series, and fortunately this outing we are not beaten over the head with the plot to kill our hero. Backstory of that plot is tendered (where it probably shouldn't have been) or should have been given us much earlier. For a secret plot with reasons that are to be kept secret not only does all romans who we encounter seem to know of it, but they know of it at the very edges of the empire which gives us the truth that it is not secret and that every person we are going to meet in the story knows why our hero is trying to hide his identity and why every can see right through that artifice.Which takes away an entire star rating and tells us once more that Riches should stick to the main plot line of each vignette. Further, engaging in credible plot devices for marching a couple cohorts all over Europe could be employed. Cato and Macro, since they are detached officers, have much more credibility in the hands of Scarrow as those heroes march all over the empire. Here in Empire you have to suspend your disbelief many times for not only SuperComicBook Hero Marcus, our protagonist, smarter than any other officer, despite his just being past boyhood, and all the other baggage he has been given by Riches.So, look past that. Riches once you ignore why the Cohort has marched 1000s of miles, finds a villain to fight. Does it well, and is ready to march on. The mistake here is to make our heroes confront Villains from all over. There were enough in Brittania to milk that for many books, as Scarrow showed in his series before moving on.Perhaps an editor who could think through this plot holes could have suggested a better way to handle things. Or perhaps, smaller sequences with different characters acting across the empire. Not just one protagonist whose entire being makes for him to be a square peg trying to be jammed into a round hole.
Also in the Empire series series | View all