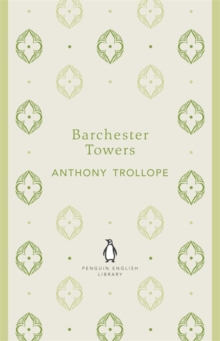 Barchester Towers
Paperback
Description
The Penguin English Library Edition of Barchester Towers by Anthony Trollope'What! to come here a stranger, a young, unknown, and unfriended stranger, and tell us, in the name of the bishop his master, that we are ignorant of our duties, old-fashioned, and useless!'Trollope's comic masterpiece of plotting and backstabbing opens as the Bishop of Barchester lies on his deathbed.
Soon a pitched battle breaks out over who will take power, involving, among others, the zealous reformer Dr Proudie, his fiendish wife and the unctuous schemer Obadiah Slope.
Barchester Towers is one of the best-loved novels in Trollope's Chronicles of Barsetshire series, which captured nineteenth-century provincial England with wit, worldly wisdom and an unparalleled gift for characterization.
The second book in the Chronicles of Barsetshire.The Penguin English Library - 100 editions of the best fiction in English, from the eighteenth century and the very first novels to the beginning of the First World War.
Information
Format: Paperback
Pages: 608 pages
Publisher: Penguin Books Ltd
Publication Date: 31/05/2012
Category: Classic fiction (pre c 1945)
ISBN: 9780141199115
Other Formats
Paperback from £5.99
CD-Audio from £24.35
Hardback from £7.45
eAudiobook MP3 from £4.95
EPUB from £2.99
PDF from £8.48
Paperback / softback from £18.45
Free Home Delivery
on all orders
Pick up orders
from local bookshops
Reviews
Showing 1 - 2 of 2 reviews.
Review by SandDune
16/06/2015
I loved this book. Loved it, loved it, loved it! It made me laugh out loud and cry and was absolutely everything a book should be. While I enjoyed [The Warden] greatly [Barchester Towers], although dealing with many of the same characters and something of the same concerns, is even better.Old Bishop Grantly is dying, and his son the Archdeacon has every expectation of being appointed his successor. Every expectation that is, as long as the present government remains in place, but the present government looks more unsteady by the day. Eventually missing the appointment by a  matter of hours the disappointed Archdeacon must come to terms with serving a new bishop, and what is worse, a bishop who has low church tendencies which are an anathema to his high church leanings. And worse still, it is not only the bishop Mr Proudie that the Archdeacon must contend with, but with two other aspirants to power within the diocese: Mrs Proudie the bishop's wife, and Mr Slope, his ambitious personal chaplain. And so there follows a Machiavellian power struggle that would be worthy of any Rennaisance prince. The first meeting of the combatants in the bishop's study gives a taste of what is to come:<blockquote>'There were four persons there, each of whom considered himself the most important person in the diocese -himself, indeed, or herself, as Mrs Proudie was one of them -and with such a difference of opinion it was not probable that they would get on pleasantly together. The bishop himself wore the visible apron, and trusted mainly to that -to that and his title, both being facts which could not be overlooked. The archdeacon knew his subject and really understood the business of bishoping, which the others did not, and this was his strong ground. Mrs Proudie had her sex to back her, and her habit of command, and was nothing daunted by the high tone of Dr Grantly's face and figure. Mr Slope had only himself and his own courage and tact to depend on, but he nevertheless was perfectly self-assured, and did not doubt but that he should soon get the better of weak men who trusted so much to externals, as both bishop and archdeacon appeared to do.</blockquote>And the archdeacon's fury at the machinations of Mr Slope are compounded when it seems that a close connection of his is looking rather more favourably on him. Is Mr Harding's younger daughter Eleanor considering marriage with the hated enemy? Rather conveniently left a rich young widow with £1,000 a year following the early death of her husband John Bold, Eleanor can now be considered a great catch for an ambitious but impecunious young clergyman, or any other young gentleman with need of a steady income.Once again, the great strength of this book is not in the plot, but with the host of marvellous characters with which Trollope fills his pages. And not only in the main characters, the lesser characters can be equally delightful. The beautiful but crippled Signora Madeline Vesey Neroni, whose only delight is to snare men into her web as a spider might do, and her brother Bertie Stanhope who has failed at most careers (and religions) known to man, are both delightful. So I will be continuing with my Trollope experiences after just a very brief break to catch my breath!
Review by JaneSteen
16/06/2015
Where I got the book: audiobook on Audible. I swear Audible is keeping me going these days!I bought this book because it's reputed to be Trollope at his finest. Not having read that cynical old Victorian for some twenty-five years and having only read some of his purely political London-based novels, it felt a little different to be suddenly immersed in the far more restrained politics of clergymen in a small cathedral town. So it was a little while before I found my feet—and then suddenly I remembered why I'd liked Trollope in the first place.There is a new Bishop of Barchester, and he is what Trollope calls Petticoated—but he's not one hundred percent under the thumb of his wife. There's an important matter of preferment to be decided—a job bringing with it a nice house and the then enormous sum of £1,200 a year—and the other prize in play is the lovely, widowed Eleanor Bond who also, oddly enough, brings £1,200 a year with her. The circling vultures with their beady eyes on these rich pickings are the odious chaplain Mr. Slope and the good-natured, heartless, scheming Stanhope siblings. There's also a whole subtext about evangelical versus traditional Anglican church practices which will, alas, be lost on most modern readers, but since the main thrust of the novel lies in the scheming and the wooing of Eleanor, it's easy enough to concentrate on that and not worry about the clerical details, which are not heavily emphasized.I found Eleanor as wet as most Victorian heroines—quite literally since she bursts into tears a lot—and, alas, Mr. Arabin is way too noble and reserved to be really fascinating. My absolute favorites, by a long chalk, were Bertie Stanhope and Madeline Vesey-Neroni who were ADORABLE in their cynical worldliness and really, at the end of the day, quite likeable as human beings. Mr. Slope is the perfect slimy Victorian Pharisee whom everyone sees through in about three seconds flat, and the power struggle between Bishop and Mrs. Proudie is as entertaining as such things usually are.I actually found myself wishing in the end that the novel was twice as long. We seemed to get to the resolution of the story much too quickly - that's the beauty of taking your Victorians in the form of audiobooks! There were whole chapters where I grinned and/or laughed out loud throughout. Narrator David Timson was so utterly perfect that I'm very disappointed to find I can't get the whole series with him as narrator on Audible. Nonetheless, I'm diving in and stepping backward to listen to the first book in the Barsetshire Chronicles, and then the rest. I've been away from Trollope for far too long.UPDATE: I was horrified, on going back and checking, to discover that I'd listened to an abridged version. No wonder it seemed too short! That won't do at all. I'll be listening to the unabridged version as soon as I can get my hands on it. Still, for those who want to cut out the Victorian waffle and get to the interesting bits, I'd heartily recommend this version.
Also in the The Penguin English Library series | View all