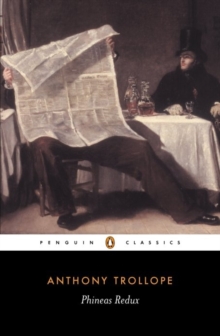 Description
In the fourth of the 'Palliser' stories, Trollope follows Phineas Finn's return to the dangerous world of Westminster politics. When his political rival is murdered, Phineas is thrown under suspicion and eventually finds himself standing trial at the Old Bailey. The situation is complicated by the presence of two women in his life: his old flame Lady Laura, whose estranged husband is determined to destroy Phineas's reputation, and the wealthy and enimgatic widow, Madame Max.
Information
Format: Paperback
Pages: 688 pages, chronology, notes
Publisher: Penguin Books Ltd
Publication Date: 24/04/2003
Category: Classic fiction (pre c 1945)
ISBN: 9780140437621
Other Formats
Paperback from £8.89
Hardback from £19.95
Paperback / softback from £14.99
EPUB from £1.94
PDF from £1.94
Free Home Delivery
on all orders
Pick up orders
from local bookshops
Reviews
Showing 1 - 3 of 3 reviews.
Review by DieFledermaus
16/06/2015
Phineas Finn returns to London and politics in this novel, the fourth in Trollope's Palliser series. The previous books (as well as most of the Barsetshire novels) can probably be read out of sequence with not much confusion. This one, however, should probably be read following at least Phineas Finn. Trollope picks up the story sometime after the events of Phineas Finn, but all the old relationships and conflicts are present. Having lost his wife, Phineas returns to Parliament. However, the election is not without some controversy, which later comes back to haunt him. He also reconnects with old friends and enemies. His relationship with Lady Laura Kennedy is developed further. Separated from her husband, Laura has become increasingly isolated and, after Phineas returns, increasingly dependent on him. There's a sharp contrast to the first Phineas book, where Laura was his superior in status, political influence and self-possession. He confessed his love and she calmly let him down, but remained his friend. Now Laura is unable to contain her emotions and admits she loves Phineas. For the whole book, Phineas remains loyal to Laura, even when it costs him politically, but never returns her love. Laura's husband Mr. Kennedy also suffers in isolation. On one hand, Trollope shows the destruction caused by a marriage that, to Laura at least, was mostly mercenary. Laura's marriage is also a contrast to the happy outcome of a 'sensible' match such as the one between Lady Glencora and Plantagenet Palliser. Glencora's marriage was decided for her. She didn't love her husband, but he was a steady, ambitious, well-off politician. At one point, Glencora even wanted to leave him for another man, but they worked things out and their marriage was a success. The Kennedy marriage was arranged under similar circumstances, but it ruins both Kennedy and Laura.Glencora and her husband are dealing with the Duke of Omnium, Palliser's uncle, who is near death. The thought of inheriting his uncle's title and vast wealth does not appeal to the stolid Palliser, who only wants to be Chancellor of the Exchequer. Glencora also tries to bring about the match between her friend, Madame Max Goesler and Phineas, much to Laura's chagrin. In politics, there's an intense debate over church disestablishment. Trollope's requisite love subplot is less interesting than some - Adelaide Palliser and the man she can't quite make up her mind to love and marry, Gerard Maule. Lizzie Eustace from the third Palliser novel shows up, unsurpringly unhappy in her second marriage. The main plot deals with Phineas being accused of the murder of a political rival.
Review by mbmackay
16/06/2015
After enjoying another wonderful Trollope, I fail to understand why Dickens, with his over-emphasised caricatures and crazy plot twists, has survived as the master of the Victorian era. Give me Trollope any day. And this is one of Trollope's best. As usual, his characters are convincingly drawn - in this case including a powerful description of a mental breakdown (post-traumatic stress disorder?) that shows how acutely Trollope observed and understood people. Unusually for Trollope, this book contains more plot action, and becomes quite a page-turner in parts. Lovely stuff. Read January 2011.
Review by pgchuis
27/08/2015
A newly widowed Phineas returns to politics and is tried for the murder of a rival MP. The first half of this story was mainly politics and was a little slow, but then the second half picked up the pace and focussed more on the personal lives of the characters. I struggled to sympathize with Phineas at any point during the novel: he seemed to move from a sense of entitlement to an over-inflated sense of his own importance to petulance to feeling sorry for himself. I would've liked to have seen a strong character call him to account more. The Lady Laura storyline was well-done, but I was sorry not to see more first hand of Lizzie Eustace, my favourite baddie of this series. The Maule/Adelaide romance was a bit lacking somehow.