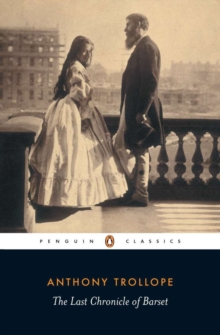 The Last Chronicle of Barset
Paperback
Description
When Reverend Josiah Crawley, the impoverished curate of Hogglestock, is accused of theft it causes a public scandal, sending shockwaves through the world of Barsetshire.
The Crawleys desperately try to remain dignified while they are shunned by society, but the scandal threatens to tear them, and the community, apart.Drawing on his own childhood experience of genteel poverty, Trollope gives a painstakingly realistic depiction of the trials of a family striving to maintain its standards at all costs.
With its sensitive portrayal of the proud and self-destructive figure of Crawley, this final volume is the darkest and most complex of all the Barsetshire novels.
Information
Format: Paperback
Pages: 928 pages
Publisher: Penguin Books Ltd
Publication Date: 29/08/2002
Category: Classic fiction (pre c 1945)
ISBN: 9780140437522
Other Formats
Hardback from £10.19
CD-Audio from £18.95
Paperback from £7.99
Audio disk from £59.29
EPUB from £2.54
PDF from £2.54
Paperback / softback from £17.99
Free Home Delivery
on all orders
Pick up orders
from local bookshops
Reviews
Showing 1 - 5 of 10 reviews.
Previous | Next
Review by DieFledermaus
16/06/2015
Trollope's final Barsetshire novel has a considerably darker subject than previous entries. Josiah Crawley, the obsessively devoted, extremely poor curate from Framley Parsonage is accused of stealing. His daughter Grace loves and is loved by Major Grantly, but the accusations thwart their romance. Her friend Lily Dale again deals with the love of her former fiancee Crosbie and friend Johnny, while Johnny's London acquaintances face conflict. Trollope also shows what happens to many of his characters from the previous novels - the Proudies, the Arabins, Mr. Harding, the Grantlys and the Luftons.By a large margin, the worst subplot dealt with Johnny's friends in the city. I didn't care about them and it wasn't just because they weren't in previous Barsetshire books. The creatively named but rather dull artist Conway Dalrymple decided to paint heiress Clara Van Siever to try and make a match. Clara was also a somewhat flat character. Conways' amusement, Mrs. Dobbs Broughton, did provide a bit of interest with her hilarious, overly Romantic notions of love, drama and sacrifice but not enough to enliven the plot.Lily Dale's love problems pick up again from The Small House at Allington, when she was jilted by Crosbie but refused to marry Johnny Eames, the man who had loved her all along. Crosbie's wife has died and he tries to renew his suit while Johnny remains as persistent as ever. Trollope slightly shifted his characterization of Eames, so instead of an awkward but sincere clerk, he comes off more like another Crosbie. The main plot involves the trials of Mr. Crawley, Trollope's standard class-conflicted love story and more of Dr. Grantly's infernal thundering. Not only is Crawley accused of theft, but he is also POOR, which rankles Archdeacon Grantly to no end. Mr. Crawley experiences all the humiliation in such a position - possibly more than anyone else could. He's sympathetic, but deeply flawed and manages to have superiority and inferiority complexes at the same time. Crawley was always more intelligent and talented than his old friend Mr. Arabin (they used to take walks in the mud and call each other Frank and Joe) so he thinks he's a little better in that respect and perhaps more deserving. At the same time, he's always hyperaware of his position as a poor curate and won't inflict himself on anyone. However, he's so mired in poverty that it becomes another way that he's better than others - more like a true Christian, and if other people are uncomfortable around him, that's their own fault. The ordeal nearly drives him insane - or at least to contemplate if he is. Mrs. Crawley remains admirable and steadfast in her support of her husband.The archdeacon violently opposes the marriage of his son and Grace Crawley. Again, Trollope half-mocks all his histrionics, especially in comparison to the calm, tactful and knowing Mrs. Grantly. She expertly handles the situation and always has a tart rejoinder to Dr. Grantly's angry mutterings. The men - Crawley and Grantly - are much more emotional, capricious and difficult than their practical wives but luckily both recognize how fortunate they are in marriage. In one good scene, Dr. Grantly appeals to his friend, Lady Lufton senior, to support him but of course she can't, having gone through something similar in Framley Parsonage. Now, she's happy with her daughter in law, the former Lucy Robarts.Will the mystery of the theft be cleared up? Will Grace and the major marry? If you've read any Trollope books before, you'll know how it'll end, but I can't say that I read Trollope for plot. He describes Mr. Harding from The Warden and Barchester Towers - he's living with his daughter and her family, old and out of health. Trollope poignantly details his quiet life - happily playing with his granddaughter and wistfully remembering his former position and his violincello. Had similar mixed emotions for this last book - good while I was reading it, but sad to know that the Barsetshire chronicles were at an end.
Review by littlegeek
16/06/2015
The end of Barset! I'm a bit saddened to leave Barsetshire behind, but it's been a good run.The last chronicle has been as enjoyable as any, but I'm not sure there was any need to introduce new characters. The Dalrymple/Broughton etc. storyline was entertaining enough, but who <i>are</i> these people? I would rather have been brought up to date on the Greshams, the Luftons or the Thornes. Lily Dale. Ugh. I'm glad that she had the opportunity to see Crosbie and realize how horribly stupid she had been about him. I'm glad she finally got rid of boring old Johnny Eames. (Really, if you don't find someone sexually attractive, just don't marry him, no matter what your friends think.) But if she's so pretty, why, in the couple of months she spent gadding around London, did Trollope not find her someone suitable? Jeeze, give the girl a break.As for the Crawley plot, it was kind of boring in a way, yet offers an opportunity for Trollope to riff on his favourite subject: what makes a truly good man? Crawley is eccentric, but his internal soul searching is fascinating, at least to me. This is where Trollope shines as a novelist.
Review by DavidGreene
16/06/2015
Last and one of the best in the Barsetshire series.
Review by hildeg
16/06/2015
The last book in the Barset series. Trollope himself rated it as his best book. I have not read them all, but have (again) read all the Barset novels, and it is perhaps the best of these, even if they are all good. The chapters on Conway Dalrympe and his various women irritated me - but one reviewer on Amazon wrote that these bits were only included because Trollope had an obligation to write a certain number of pages for a magazine publication. I can believe that.... these bits strike me as irrelevant and rather boring. But the rest is very good. The complicated story of the Crawley family, the death of Mr. Harding, and the development of the character of the archdeacon are all wonderful.The love stories of Lily and John as well as Grace and Major Grantley are very well described. I agree with all who have written that if you want to start reading Trollope, start with this series of novels :-)
Review by jmoncton
16/06/2015
OK. Time to come clean. The original reason for me to read this book is that it is on THE LIST - the '1001 Books to Read Before You Die' list. But, it is the last book in a series of 6 titles and I was worried that I would not be able to follow the plot or be missing something, so I decided to read the entire series. Like so many other Victorian authors, Trollope can be verbose. Taking on the challenge of finishing the entire Barchester series meant reading 3414 pages or listening to over 119 hours of audiobooks. Now that's a commitment! I hesitantly started the first book of the series, <i>The Warden</i> and found that I liked it. It wasn't earth shattering, but the characters were quaint and even after reading this (relatively) short book, I had a picture in my mind of a charming English setting filled with believable characters and resolving some of life's day to day conflicts. I took a break from the story, but every few months, I would feel like picking up the another book in the series. By the time I had finished Book 3, I was hooked. I even watched a few of the TV serials made by the BBC - I just could not get enough of the characters and conflicts of this charming world. I both read and listened to this entire series. The narrator, Simon Vance, was absolutely amazing. And by the time I had finished listening to the last chapter - 119 hours later - I was really sad to see it end.