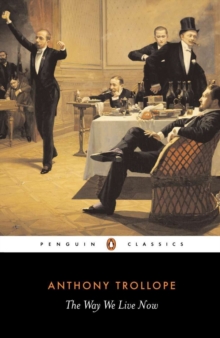 The Way We Live Now
Paperback
Description
The Way We Live Now is Anthony Trollope's radical exploration of the dangers associated with speculative capitalism, edited with an introduction and notes by Frank Kermode in Penguin Classics.Augustus Melmotte is a fraudulent foreign financier who preys on dissolute nobility - using charm to tempt the weak into making foolish investments in his dubious schemes.
Persuaded to put money into a notional plot to run a railroad from San Francisco to Santa Cruz, the capricious gambler Felix Carbury soon becomes one of his victims.
But as Melmotte climbs higher in society, his web of deceit - which also draws in characters as diverse as his own daughter Marie and Felix's mother, the pulp novelist Lady Carbury - begins to unravel.
A radical exploration of the dangers associated with speculative capitalism, this is a fascinating satire about a society on the verge of moral bankruptcy.Frank Kermode's introduction explores the real-life inspiration for Trollope's masterly satire.
This edition also includes detailed notes.Anthony Trollope (1815-82) had an unhappy childhood characterised by a stark contrast between his family's high social standing and their comparative poverty.
He wrote his earliest novels while working as a Post Office inspector, but did not meet with success until the publication of the first of his 'Barsetshire novels', The Warden (1855).
As well as writing over forty novels, including such popular works as Can You Forgive Her? (1865), Phineas Finn (1869), He Knew He Was Right (1869) and The Way We Live Now (1875) Trollope is credited with introducing the postbox to England.If you enjoyed The Way We Live Now, you might like William Makepeace Thackeray's Vanity Fair, also available in Penguin Classics.'Trollope's masterpiece ... its examination of how hopes of easy money can corrupt remains relevant today' Observer
Information
Format: Paperback
Pages: 816 pages
Publisher: Penguin Books Ltd
Publication Date: 28/04/1994
Category: Classic fiction (pre c 1945)
ISBN: 9780140433920
Other Formats
Paperback from £2.50
EPUB from £1.99
Hardback from £20.95
Paperback / softback from £20.65
Free Home Delivery
on all orders
Pick up orders
from local bookshops
Reviews
Showing 1 - 2 of 2 reviews.
Review by mattmcg
16/06/2015
The best book ever about getting rich on the empty promises of a foolish business plan. Should be required reading before you buy stock in fur-bearing-trout farms or internet companies.
Review by Maura49
16/06/2015
This is without doubt the most readable book by Anthony Trollope that I have yet come across and I found it really enjoyable. I had read the Barchester Chronicles and some of the Pallisers series, but the difference here was that I was not constantly being tripped up by my lack of knowledge of Anglican Church affairs or the inner workings of the Houses of Parliament. Politics do feature in the book but not in any dominant way.The Way We Live Now is very much a character driven book and Trollope has created some very strong individuals including some splendidly well drawn women. I loved the bold American, Mrs Hurtle, who is inexplicably attached to the rather weak Paul Montague and then there is Marie Melmotte, helpless pawn of her father's matchmaking plans, but with a mind of her own. We meet Mrs Carbury, forced to scratch a living by her pen and desperate to establish her children in the world. The men are less vivid with the exception of Mr Melmotte whose dilemmas have elements of almost Shakespearean tragedy .Trollopes themes of corporate greed and corruption in high places speak very strongly to the modern reader and the ambition and range of the book mark it out as one of his best, and well deserving of it's high reputation. On the plot level, characters' financial affairs and various romances keep the reader on tenterhooks about the outcomes until the very end of the novel. Something of a sour note is struck by a level of anti-semitism expressed by some people , perhaps reflecting the time at which the book was written, but unpleasant to read. However it must be said that Trollope deals fairly with Ezekiel Brehgert, a Jewish banker who is by far the most honourable character in the book (with the exception of the old-fashioned Roger Carbury) and who deals with people in a dignified and level headed way. Of those books by Trollope that I have read, this is the one that I would recommend to someone coming fresh to his work, quite definitely a good read.