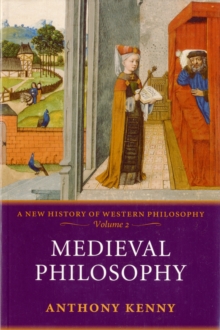 Medieval Philosophy : A New History of Western Philosophy, Volume 2
Paperback
Description
Sir Anthony Kenny continues his magisterial new history of Western philosophy with a fascinating guide through more than a millennium of thought from 400 AD onwards, charting the story of philosophy from the founders of Christian and Islamic thought through to the Renaissance.The middle ages saw a great flourishing of philosophy, and the intellectual endeavour of the era reaches its climax in the thirteenth and fourteenth centuries, with the systems of the great schoolmen such as Thomas Aquinas and John Duns Scotus.
Specially written for a broad popular readership, but serious and deep enough to offer a genuine understanding of the great philosophers, Kenny's lucid and stimulating history will become the definitive work for anyone interested in the people and ideas that shaped the course of Western thought.
Information
Format: Paperback
Pages: 352 pages, 35 black and white illustrations
Publisher: Oxford University Press
Publication Date: 31/05/2007
Category: Western philosophy: Ancient, to c 500
ISBN: 9780198752745
Free Home Delivery
on all orders
Pick up orders
from local bookshops
Reviews
Showing 1 - 1 of 1 reviews.
Review by baswood
16/06/2015
Now I know why I don't read too many books on philosophy: they can be so damn difficult to understand.I read this as part of my continuing interest in late medieval literature. Another avenue to explore in my search to discover how educated people of the 14th century viewed their world. Anthony Kenny has organised his material by subject matter and so there are chapters on; Philosophy and Faith, The Schoolmen, Logic and language, Knowledge, Physics, Metaphysics, Mind and Soul, Ethics and God. In each chapter he uses Augustine as his starting point and moves chronologically through the development of thoughts taking in those of; the Islamic school, Thomas Aquinus, Duns Scottus and Ockham. He will also stop to pick up on the way, where appropriate ideas from; Boethius, Wycliff, Abelard, Bonaventure and Anselm. I found this approach very useful in assisting my understanding of each subject and the chronological development of the arguments through the various philosophers meant that by the time I arrived at the final chapter I had a pretty good idea of what they would say on the subject of God.Some of the chapters tested my grasp of the subject matter to the limit. At times I felt I was in very deep water struggling to find a foothold. This was no doubt because of my unfamiliarity with some of the technical language and terms used. After all this is a book subtitled the History of Western Philosophy and so the reader should not be surprised by some of the content. Kenny does his best to explain many of the terms used and provides plenty of examples. There was enough here to hold my interest and keep me going through some of the more demanding chapters. It is a book I will come back to. It is a splendid reference tool. It is nicely presented with some very good illustrations.One LT reviewer has said "I finally finished this book! I'm ready for the agent intellect to beam me up" I know what he/she means, its not a book to be read quickly, it does require patience and perseverance, but if the subject interests you, it is well worth the time and effort. I can understand why some readers rate this a 5 star book.
Also in the New History of Western Philosophy series | View all