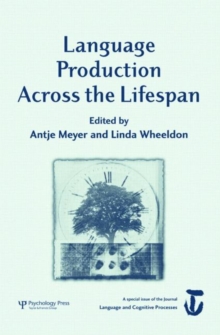 Language Production Across the Life Span : A Special Issue of Language And Cognitive Processes
Paperback
Description
Most current theories of lexical access in speech production are designed to capture the behaviour of young adults - typically college students.
However, young adults represent a minority of the world's speakers.
For theories of speech production, the question arises of how the young adults' speech develops out of the quite different speech observed in children and adolescents and how the speech of young adults evolves into the speech observed in older persons.
Though a model of adult speech production need not include a detailed account language development, it should be compatible with current knowledge about the development of language across the lifespan.
In this sense, theories of young adults' speech production may be constrained by theories and findings concerning the development of language with age.
Conversely, any model of language acquisition or language change in older adults should, of course, be compatible with existing theories of the "ideal" speech found in young speakers.
For this Special Issue we elicited papers on the development of speech production in childhood, adult speech production, and changes in speech production in older adults.
The structure of the Special Issue is roughly chronological, focusing in turn on the language production of children (papers by Behrens; Goffman, Heisler & Chakraborty; Vousden & Maylor), young adults (papers by Roelofs; Schiller, Jansma, Peters & Levelt; Finocchiaro & Caramazza; Hartsuiker & Barkhuysen; Bonin, Malardier, Meot & Fayol) and older adults (papers by Mortensen, Meyer & Humphreys; Spieler & Griffin; Altmann & Kemper).
We hope that the work compiled here will encourage researchers in any of these areas to consider the theories and findings in the neighbouring fields.
Information
Format: Paperback
Pages: 336 pages
Publisher: Taylor & Francis Ltd
Publication Date: 09/04/2009
Category: Psycholinguistics
ISBN: 9781848727137
Free Home Delivery
on all orders
Pick up orders
from local bookshops
Also in the Special Issues of Language and Cognitive Processes series | View all