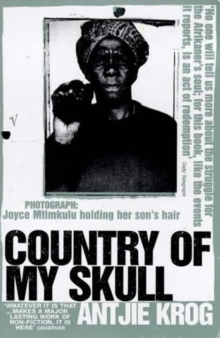 Country of My Skull
Paperback
Description
The first free elections in South Africa's history were held in 1994.
Within a year legislation was drafted to create a Truth and Reconcilliation Commission to establish a picture of the gross human rights violations committed between 1960 and 1993.
It was to seek the truth and make it known to the public and to prevent these brutal events ever happening again.
From 1996 and over the following two years South Africans were exposed almost daily to revelations about their traumatic past.
Antije Krog's full account of the Commission's work using the testimonies of the oppressed and oppressors alike is a harrowing and haunting book in which the voices of ordinary people shape the course of history.
WINNER OF SOUTH AFRICA'S SUNDAY TIMES ALAN PATON AWARD
Information
Format: Paperback
Pages: 464 pages
Publisher: Vintage Publishing
Publication Date: 04/11/1999
Category: Politics & government
ISBN: 9780099289791
Free Home Delivery
on all orders
Pick up orders
from local bookshops
Reviews
Showing 1 - 2 of 2 reviews.
Review by StuartAston
16/06/2015
Non-Fiction is not normally my staple diet of reading material but there are certain books you should read to find out how the human race ticks at times.This is one of those books. It follows the work of the Truth and Reconcilliation Commission in South Africa after the first free elections in 1994. Antjie Krog was one of the reporters working through the time of the commission and you see how the feelings of them and us ran deep in some groups in South Africa while in others they were just lef there by their leaders.The stories that are told are sickening at times and what the people want as compensation is in some cases just to be told that what happened to them or their family was wrong and the people are sorry. Such an easy thing to say you would think - until you read on and hear the history behind South Africa as well as the hard headedness of some of the older generation who could see nothing wrong in what they had done.Even just to clear the air politics played such a part -which attacks were just which were not for example was something that came up repeatedly. Leading to everyone always making sure whatever they said could never be misconstrued as them saying it was there fault.It is a long hard book to read. But please read it. If for no other reason to find out what a complicated race of people us humans really are.
Review by patrickgarson
16/06/2015
Country of My Skull is an astonishing book. Krog's attempt to embrace, explicate, and bear witness to South Africa's Truth and Reconciliation Commission is complicated, creative, flawed, distressing, inspiring. A supremely human book that doesn't resile from its truths, emotional and otherwise. Krog is a radio journalist assigned to cover the 'make-or-break' Truth and Reconciliation Commission in the larval, apartheid-free South African state. But she is also a poet, an Afrikaner, a left-wing journalist, a woman, and more. As a microcosm of South African society passes through the commission, which lens will she view them with? How can one do justice to these people? - a question no less pressing for Krog than the Commission itself.The answer to both questions varies a lot. Some parts of Country of My Skull are simply transcripts of the testimonies, followed by Krog's analysis or reaction. Others are hypothetical conversations with different facets of the South Africans she engages with about the Commission. Others still are internal monologues or prose poems. The tone overall is troubled, vulnerable, and also afraid of what the failure of the Commission might mean. I really admired Krog's willingness to think about her own emotions, reactions and ultimately culpability as a white South African. This is not a book that shies away from much, and I feel like it really captures the confusion, incomprehension, and in some ways insanity, that apartheid engendered and has gifted the country with. It doesn't have any easy answers - the answers it provides are woefully inadequate for everyone. There's no real arc or narrative, and it's hard to say whether the book ends on a high note or not - there's an inescapable sense of fragility throughout that undermines any idea of closure. Country of My Skull is a big book, and it's demanding, emotionally and mentally. But this is perhaps the best way - the only way? - to write about the enormity of Apartheid, what it wrought and what that means in the "new" South Africa. Highly recommended.