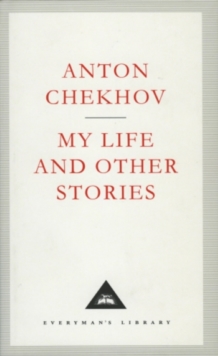 The Steppe and Other Stories
Hardback
Description
Primarily known as a dramatist, Chekhov also wrote short stories.
This selection of his work includes The Swedish Match, Easter Eve, Mire, On the Road, Verotchka, Volodya, The Kiss, Sleepy and The Steppe.
Information
Format: Hardback
Pages: 400 pages
Publisher: Everyman
Publication Date: 26/09/1991
Category: Classic fiction (pre c 1945)
ISBN: 9781857150452
Other Formats
Paperback from £7.39
EPUB from £3.99
Free Home Delivery
on all orders
Pick up orders
from local bookshops
Reviews
Showing 1 - 1 of 1 reviews.
Review by gbill
16/06/2015
As Pushkin open Russian 19th century literature, so Chekhov closes it. It's interesting that Chekhov's own life (1860-1904) also aligned with the emancipation of the serfs (1861) and the "first" Russian revolution (1905). In this volume the stories I liked most were "On the Road", with its haunting ending, and Verotchka, with its theme of transience. Quotes:On good and evil, from "On the Road":"…Not a day passes but one makes acquaintance with somebody one would give one's soul for. There are ever so many more good people than bad in this world"On saying good-bye, also from "On the Road"; I love this imagery:"She was silent. When the sledge started, and had to go round a huge snowdrift, she looked back at Liharev with an expression as though she wanted to say something to him. He ran up to her, but she did not say a word to him, she only looked at him through her long eyelashes with little specks of snow on them.Whether his finely intuitive soul were really able to read that look, or whether his imagination deceived him, it suddenly began to seem to him that with another touch or two that girl would have forgotten his failures, his age, his desolate position, and would have followed him without question or reasonings. He stood a long while as though rooted to the spot, gazing at the tracks left by the sledge runners. The snowflakes greedily settled on his hair, his beard, his shoulders…Soon the track of the runners had vanished, and he himself, covered with snow, began to look like a white rock, but still his eyes kept seeking something in the clouds of snow."From "The Steppe":"Yegorushka kissed his hand, and shed tears; something whispered in his heart that he would never see the old man again….Yegorushka felt that with these people all that he had known till then had vanished from him for ever. He sank helplessly on to the little bench, and with bitter tears greeted the new unknown life that was beginning for him now…What would that life be like?"On love, from "On the Road":"…The meaning of life lies in just that unrepining martyrdom, in the tears that would soften a stone, in the boundless, all-forgiving love which brings light and warmth into the chaos of life…"On meaninglessness, and solitude, from "The Steppe":"When you gaze a long while fixedly at the deep sky thoughts and feelings for some reason merge in a sense of loneliness. One begins to feel hopelessly solitary, and everything one used to look upon as near and akin becomes infinitely remote and valueless; the stars that have looked down from the sky thousands of years already, the mists and the incomprehensible sky itself, indifferent to the brief life of man, oppress the soul with their silence when one is left face to face with them and tries to grasp their significance. One is reminded of the solitude awaiting each one of us in the grave, and the reality of life seems awful…full of despair…"On memories, from "Verotchka""He walked along thinking how frequently one met with good people, and what a pity it was that nothing was left of those meetings but memories. At times one catches a glimpse of cranes on the horizon, and a faint gust of wind brings their plaintive, ecstatic cry, and a minute later, however greedily one scans the blue distance, one cannot see a speck nor catch a sound; and, like that, people with their faces and their words flit through our lives and are drowned in the past, leaving nothing except faint traces in the memory. … as soon as he was out of the gate all this would be changed to memory and would lose its meaning as reality for ever, and in a year or two all these dear images would grow as dim in his consciousness as stories he had read or things he had imagined."Nothing in life is so precious as people!" Ognev thought in his emotion, as he strode along the avenue to the gate. "Nothing!"On sorrow, from "Easter Eve":"…Only tell me, kind sir, why, even in the time of great rejoicing, a man cannot forget his sorrows?"