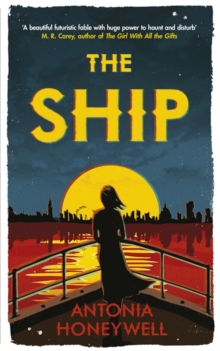 Description
WELCOME TO LONDONBUT NOT AS YOU KNOW ITOxford Street burned for three weeks.
The British Museum is occupied by ragtag survivors. The Regent's Park camps have been bombed. The Nazareth Act has come into force. If you can't produce your identity card, you don't exist.Lalla, sixteen, has grown up sheltered from the new reality by her visionary father, Michael Paul.
But now the chaos has reached their doorstep. Michael has promised to save them. His escape route is a ship big enough to save five hundred people.
But only the worthy will be chosen. Once on board, as day follows identical day, Lalla's unease grows.
Where are they going? What does her father really want?WHAT IS THE PRICE OF SALVATION?
Information
Format: Hardback
Pages: 320 pages
Publisher: Orion Publishing Co
Publication Date: 01/02/2015
ISBN: 9780297871491
Other Formats
Paperback from £7.85
EPUB from £2.99
CD-Audio from £17.95
Free Home Delivery
on all orders
Pick up orders
from local bookshops
Reviews
Showing 1 - 1 of 1 reviews.
Review by psutto
27/08/2015
Brilliant Lalage Paul, known as Lalla, 16, lives in (a very changed) London but has been sheltered from the chaos of a dystopian post-collapse world by her parents. Her mother, who tries to give her an education via the British Museum, despite it being colonised by a ragtag group of survivors; and her father, Michael, part of the establishment, architect of the Dove, a program to "save" Britain. Now the Nazareth Act has been put in place everyone must produce an identity card, or they will be shot. Michael has a plan to escape, he has bought a large ocean going ship and stocked it with food that is rapidly becoming scarce in London. He has invited a group of people who all, in one way or another, represent hope in the future. 500 people. When the chaos on the streets of London becomes too much and a shocking event causes them to escape immediately Lalla is full of hope. But where is the ship going? What is Paul's plan for escape? Why is the escapees devotion to him disturbingly cult-like? This is a rollercoaster of a book that wraps itself around you at the beginning and doesn't let go. Lalla is often annoying and spoiled, but utterly believable and, as narrator the tension between naïveté, teenage angst and slowly dawning comprehension is a difficult trick to pull off but Honeywell does it with aplomb. Lalla is an insufferable spoiled brat, immature and irritating and yet you can't help but be on her side, which throws into sharp relief the question at the heart of the book (imho) what is freedom? There are labyrinths here to explore and like all good books a wealth to ponder and discuss, this would make a good book club read. As those who follow my reviews will know, I am not a fan of YA, and this is possibly going to be marketed as such, teenage protagonist = YA right? However I think there is enough here to satisfy any reader, it didn't suffer from all the things I dislike about YA fiction. It is also a dystopia and the problems that sometimes occur with that genre, either over-explaining the world, or trying to justify unbelievable worlds just doesn't occur here. It is over the top, Regent's Park is bombed to remove undesirable non-ID'd people for example, but a light touch from Honeywell makes you accept and move on. The world of the book is seen through a glass darkly, but that enhances rather than detracts. Post-collapse books usually take a "people are mostly bad" or "people are mostly good" stance but Honeywell eschews this in favour of "people react in different ways" which is refreshingly shades of grey. The plot relies on Lalla being a bit dense, which is a big no no for me usually, and yet, here, it works. Honeywell's accomplishment is to be applauded, taking several elements that all, at face value, will turn off readers and making of them a compelling tale that you don't want to put down. Overall - In short, this is a book you ought to read.