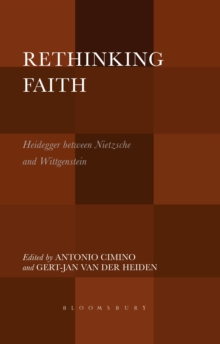 Rethinking Faith : Heidegger between Nietzsche and Wittgenstein
Paperback
Description
Heidegger has often been considered as the proponent of the end of metaphysics in the post-Hegelian philosophy, due to his persistent attempts to overcome the onto-theological framework of traditional metaphysics.
Yet, this dismissal of metaphysical, theological, and religious motives is deeply ambiguous since new forms of metaphysical and religious experience re-emerge in his philosophical works.
Heidegger shares this ambiguous relation to the notions of faith and religion with authors such as Nietzsche and Wittgenstein whose works are also marked by a critique of metaphysics and by a characteristic rethinking of the role of faith and religion.
In fact, all three still remain, among other things, reference points for contemporary philosophical debates relating to the phenomenon of religion and faith.
Rethinking Faith explores how the phenomena of religion and faith are present in the works of Heidegger, Nietzsche, and Wittgenstein, and how these phenomena are brought into play in their discussion of the classical metaphysical motives they criticize.
Free Home Delivery
on all orders
Pick up orders
from local bookshops