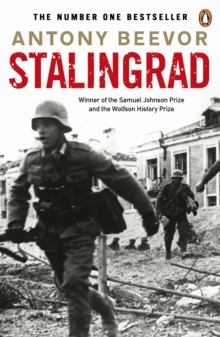 Description
Antony Beevor's Stalingrad is a harrowing look at one of history's darkest moments.In October 1942, a panzer officer wrote 'Stalingrad is no longer a town...
Animals flee this hell; the hardest stones cannot bear it for long; only men endure'.
The battle for Stalingrad became the focus of Hitler and Stalin's determination to win the gruesome, vicious war on the eastern front.
The citizens of Stalingrad endured unimaginable hardship; the battle, with fierce hand-to-hand fighting in each room of each building, was brutally destructive to both armies.
But the eventual victory of the Red Army, and the failure of Hitler's Operation Barbarossa, was the first defeat of Hitler's territorial ambitions in Europe, and the start of his decline.An extraordinary story of tactical genius, civilian bravery, obsession, carnage and the nature of war itself, Stalingrad will act as a testament to the vital role of the soviet war effort.'A superb re-telling.
Beevor combines a soldier's understanding of war's realities with the narrative techniques of a novelist . . . This is a book that lets the reader look into the face of battle' Orlando Figes, Sunday Telegraph 'A brilliantly researched tour de force of military history' Sarah Bradford, The TimesAntony Beevor is the renowned author of Stalingrad, which won the Samuel Johnson Prize, the Wolfson Prize for History and the Hawthornden Prize for Literature, and Berlin, which received the first Longman-History Today Trustees' Award.
His books have sold nearly four million copies.
Information
Format: Paperback
Pages: 528 pages
Publisher: Penguin Books Ltd
Publication Date: 04/10/2007
Category: General & world history
ISBN: 9780141032405
Free Home Delivery
on all orders
Pick up orders
from local bookshops
Reviews
Showing 1 - 4 of 4 reviews.
Review by mearso
16/06/2015
Impressive unfolding of the pivotal battle for Stalingrad. I was struck by the enormous scale of the slaughter and the conceit of the politicians who necessitated
Review by nigeyb
16/06/2015
This is a superb book. A painstakingly researched and clearly written account of a key part of World War Two. Once you've read this then go on to the equally wonderful 'Berlin, The Downfall' also by Antony Beevor.
Review by twp77
16/06/2015
Seldom do you find a book that simultaneously encompasses enormous human tragedy and detailed accounts of loss of life but remains one that you are still unable to put down.Here we are taken through the terror, the horror and every aspect of this bloody and futile loss of life in the Second World War with precision by Beevor's excellent knowledge and writing style. He spares no side in his brazen quest for the truth from survivors; prisoners and generals alike. A must read for anyone with an interest in history.
Review by carlosemferreira
16/06/2015
An evocative page-turner about a momentous moment in WW 2 history. The people, more than the divisions and weaponry, is what you notice the most.