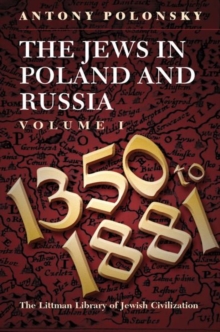 The Jews in Poland and Russia : Volume I: 1350 to 1881
Paperback / softback
Description
Each of the three volumes of this magisterialwork provides a comprehensive picture of the realities of Jewish life in thePolish lands in the period it covers, while also considering the contemporary political,economic, and social context.
Volume I: 1350 to 1881 provides a wide-rangingoverview down to the mid-eighteenth century, including social, economic, andreligious history.
The period from 1764 to 1881 is covered in more detail, withattention focused on developments in each country in turn, especially withregard to the politics of emancipation, acculturation, assimilation, and forcedintegration. Volume II: 1881 to 1914 explores the factors that had a negative impact on Jewish life aswell as the political and cultural movements that developed in consequence:Zionism, socialism, autonomism, the emergence of modern Hebrew and Yiddishliterature, Jewish urbanization, and the rise of popular Jewish culture.
Galicia,Prussian Poland, the Kingdom of Poland, and the tsarist empire are all treatedindividually, as are the main cities. Volume III: 1914 to 2008 covers the interwar period, the Second WorldWar, and the Holocaust, including Polish-Jewish relations and the Soviet recordon the Holocaust.
A survey of developments since 1945 concludeswith an epilogue on the situation of the Jews since the collapse of communism.
Information
Format: Paperback / softback
Pages: 568 pages, 8 Maps; 3 Tables, black and white
Publisher: Liverpool University Press
Publication Date: 17/12/2019
Category: European history
ISBN: 9781789620450
Also in the The Littman Library of Jewish Civilization series | View all