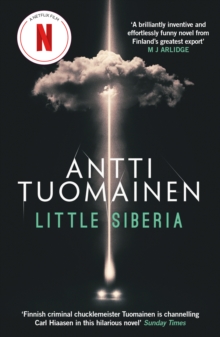 Little Siberia
Paperback / softback
Description
The arrival of a meteorite in a small Finnish town causes chaos and crime in this poignant, chilling and hilarious new thriller from the King of Helsinki Noir 'Tuomainen is the funniest writer in Europe' Marcel Berlins, The Times 'The biting cold of Northern Finland is only matched by the cutting dark wit and compelling plot on this must-read crime novel ... most highly recommended!!' Denzil Meyrick 'A brilliantly inventive and gloriously funny novel from Finland's greatest export' MJ Arlidge 'Finnish criminal chucklemeister Tuomainen is channelling Carl Hiaasen in this hilarious novel' Sunday Times Crime Club A man with dark thoughts on his mind is racing along the remote snowy roads of Hurmevaara in Finland, when there is flash in the sky and something crashes into the car.
That something turns about to be a highly valuable meteorite.
With euro signs lighting up the eyes of the locals, the unexpected treasure is temporarily placed in a neighbourhood museum, under the watchful eye of a priest named Joel. But Joel has a lot more on his mind than simply protecting the riches that have apparently rained down from heaven.
His wife has just revealed that she is pregnant. Unfortunately Joel has strong reason to think the baby isn't his.
As Joel tries to fend off repeated and bungled attempts to steal the meteorite, he must also come to terms with his own situation, and discover who the father of the baby really is. Transporting the reader to the culture, landscape and mores of northern Finland Little Siberia is both a crime novel and a hilarious, blacker-than-black comedy about faith and disbelief, love and death, and what to do when bolts from the blue - both literal and figurative - turn your life upside down. 'What seems like a cockamamie crime novel full of dark humour is also a wonderfully poignant piece of writing by Antti Tuomainen' Crime Fiction Lover PRAISE FOR ANTTI TUOMAINEN 'The deadpan icy sensibility of Nordic noir is combined here with warm-blooded, often surreal, humour ...
Tuomainen's dark story manages to be as delicious as it is toxic' Jake Kerridge, Sunday Express 'Told in a darkly funny, deadpan style ...
The result is a rollercoaster read' Laura Wilson, Guardian 'An original and darkly funny thriller with a Coen brothersesque feel & tremendous style' Eva Dolan 'Right up there with the best' The TLS 'Tuomainen's spare style suits the depressing subject and raises a serious question: how do you find hope when law and order break down?' Financial Times 'Both a thriller and a dark laugh a minute journey that will keep you hanging on to the end.
The story of a man investigating his own death has been done before but not with such gusto' Maxim, Jakubowski, Crime Time 'A tightly paced Scandinavian thriller with a wicked sense of humor and a bumbling ne'er -do-well at its center' Matt Grant, Foreword reviews 'Colorful characters and awkward situations, as when Nyman becomes a person of interest to the locals, enhance the zany plot.
Tim Dorsey fans will have fun' Publishers Weekly 'An offbeat jewel' Publishers Weekly
Information
Format: Paperback / softback
Pages: 200 pages
Publisher: Orenda Books
Publication Date: 17/10/2019
ISBN: 9781912374519
Save 25%
Free Home Delivery
on all orders
Pick up orders
from local bookshops