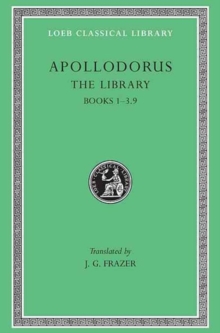 The Library, Volume I : Books 1-3.9
Hardback
Description
The Library provides in three books a grand summary of traditional Greek mythology and heroic legends.
Written in clear and unaffected style, the compendium faithfully follows the Greek literary sources.
It is thus an important record of Greek accounts of the origin and early history of the world and their race.
This work has been attributed to Apollodorus of Athens (born c. 180 BCE), a student of Aristarchus. But the text as we have it was written by an author probably living in the first or second century of our era. In his highly valued notes to the Loeb Classical Library edition (which is in two volumes) J.
G. Frazer cites the principal passages of other ancient writers where each particular story is told and compares the various versions to those in the Library.
Information
Format:Hardback
Pages:464 pages
Publisher:Harvard University Press
Publication Date:01/01/1921
Category:
ISBN:9780674991354