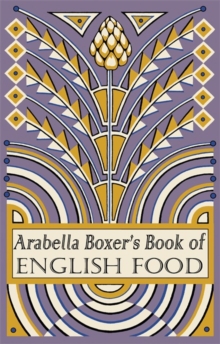 Arabella Boxer's Book of English Food : A Rediscovery of British Food from Before the War
Hardback
Description
A Book of English Food is an elegant compendium of brilliant recipes adapted from the cookery books of the 1920s and 1930s by Arabella Boxer, with beautiful new illustrations by Cressida Bell.Arabella Boxer's Book of English Food describes the delicious dishes - and the social conditions in which they were prepared, cooked and eaten - in the short span between the two World Wars when English cooking suddenly blossomed.The food in these wonderful recipes comes from the great country houses, where little had changed since Victorian times, the large houses in London and the South, where fashionable hostesses vied with each other to entertain the most distinguished guests at their tables, and less grand establishments, like those in Bloomsbury where the painters and writers of the day contrived to lead cultured and civilised lives on little money.Containing 200 recipes, drawn from cookery books, magazines of the period, family sources or from talking to survivors who still remember those days, A Book of English Food is a fascinating glimpse into another world, and a celebration of English cooking at its finest.'That rare thing, a cookery book with an argument: viz, that English cookery was once both good and independent of the cuisines of her neighbours . . . a rollicking good read' Observer'I still find the calm elegance of her writing an inspiration' Nigel Slater'A treasury of social gossip . . . immensely enjoyable and useful' Spectator'A captivating exploration and celebration of the flowering of English cooking in the 1920s and 30s' Financial Times'I recommend it, not only for its excellent food but also for the superb introductions and details of social history in the great houses with their shimmering hostesses' Evening StandardArabella Boxer was born in 1934 and educated in the UK, Paris and Rome.
She has written for the Sunday Times magazine and the Telegraph magazine and was Food Writer for Vogue from 1966 to 1968 and 1975 to 1991.
She was awarded the Glenfiddich Cookery Writer of the Year Award in 1975 and 1978, a Glenfiddich Special Award in 1992 and won the 1991 Andre Simon Award and the 1992 Michael Smith Macallan Award for fine writing about British food.
Arabella Boxer is the author of a number of cookery books, including First Slice Your Cookbook, Arabella Boxer's Garden Cookbook, Mediterranean Cookbook, The Sunday Times Complete Cookbook and A Visual Feast (with Tessa Traeger).
A founding member of the Guild of Food Writers, she lives in London.
Information
Format: Hardback
Pages: 304 pages, 12 full page
Publisher: Penguin Books Ltd
Publication Date: 05/07/2012
Category: General cookery & recipes
ISBN: 9781905490998
Free Home Delivery
on all orders
Pick up orders
from local bookshops
Reviews
Showing 1 - 1 of 1 reviews.
Review by dajashby
11/07/2015
This is a revised version of the original 1991 edition. It is most easily tagged as gastronomy, but it is also memoir, history and recipe book.There is no denying that, even among people who should know better, English cooking has a poor reputation. Boxer's thesis is that this is unfair. Between the wars there was a move away from stodgy Edwardian cooking, driven by a shortage of servants and the introduction of modern cooking equipment. (We are not talking about the working class, whose diet remained atrocious.) The momentum was lost after the Second World War, with Elizabeth David beginning a vogue for foreign cuisines that has not abated until very recently.Boxer was born in 1934, and the introductions to each chapter include reminiscences from her own upper-class childhood, setting the food in its cultural context. The recipes are all sourced from books of the period; a great many of them are familiar to anyone raised on what I like to think of as "good plain cooking" of the British style (Boxer cannot avoid Scottish recipes, being Scottish herself).Recommended to anyone with an interest in social history, or in unfussy, delicious recipes. If, like me, you are interested in both, you are in for a real treat.
Also by Arabella Boxer