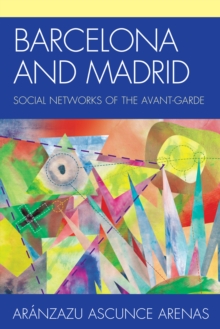 Barcelona and Madrid : Social Networks of the Avant-Garde
Paperback / softback
Description
For hundreds of years, Barcelona and Madrid have shared a deep rivalry.
Throughout history, they have competed in practically every aspect of social life, sport, politics, and culture.
While competition between cities is commonplace in many nations around the world, in the case of Barcelona and Madrid it has been, on occasion, excessively antagonistic.
Over time they have each tried to demonstrate that one was more modern than the other, or more avant-garde, or richer, or more athletic, and so on. Fortunately, the Spain of today is a democracy and every nation and region of the State has the liberty to act.
As such, the rivalry between these two capitals has become productive not only for the cities themselves, but also for Spain as a whole.
One hundred years ago, at the onset of the Historical Avant-Garde in Spain, the connections between Barcelona and Madrid consisted of a complicated web of politics, friendships, publications, and inter-art collaborations.
Over the last century, the antagonistic relationship between these two cultural capitals has been dismissed as simply a fact of life and thereby scholars, for the most part, have focused only on Barcelona or Madrid when addressing this cultural moment.
By delving deep into the myriad of cultural and political complexities that surround these two cities from the onset of Futurism (1909) to the arrival of Surrealism in Spain (1929), a complex social and cultural network is revealed.
Networking between artists, poets, journalists and thinkers connected avant-garde Barcelona and Madrid, thereby creating synergy for this artistic and literary movement.
In a hybrid, transdisciplarian, translingual and historical approach using a wide range of visual and textual artifacts, the complexity of interactions described here opens our imagination to new ways of thinking about culture.
Information
Format: Paperback / softback
Pages: 288 pages
Publisher: Bucknell University Press
Publication Date: 12/06/2014
Category: European history
ISBN: 9781611485905
Free Home Delivery
on all orders
Pick up orders
from local bookshops