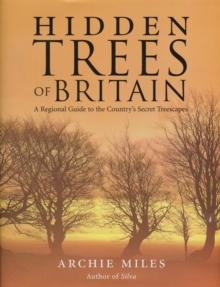 Hidden Trees of Britain
Hardback
Description
Britain has 80 per cent of northern Europe's most ancient trees and a remarkable array of woodland types, in particular the huge variety of manifestations and combinations of our native species.
Our trees are a defining feature of the British landscape and one of the best-loved aspects of our island.
Archie Miles has been photographing trees and woodland for over 30 years and, in this lavishly illustrated guide, he presents a regional overview, highlighting the great diversity of woodlands and hedgerow trees, as well as some breathtaking individuals, many growing in extreme circumstances.
Breaking the nation down into ten regions (including Northern Ireland), he covers the weird, the wonderful and the ancient, with superb photographs, keyed maps and a comprehensive reference section giving details of how to find the sites. Whether it be yew trees growing from inhospitable crevices in the limestone pavements of Lancashire, Britain's most northerly ash wood in the west Highlands of Scotland, tamarisk-topped hedge banks in Cornwall, pure laburnum hedges in Shropshire, hollies growing on seaside shingle banks of Kent, or simply the massive 42-foot girthed frame of the famous Bowthorpe Oak in Lincolnshire, the author chronicles the very best of British trees.
Information
Format: Hardback
Pages: 288 pages
Publisher: Ebury Publishing
Publication Date: 01/09/2007
Category: Trees, wildflowers & plants
ISBN: 9780091901660
Free Home Delivery
on all orders
Pick up orders
from local bookshops
Reviews
Showing 1 - 1 of 1 reviews.
Review by anthonywillard
16/06/2015
About half photos and half text. Coffee-table sort of book. Treats each of 90 wooded areas (some individual trees) with a decorative spread of good but not great photography and a sometimes nannyish prose description. Features an outline map of Great Britain indicating rough location of each subject woods. Also a gazetteer at the back with driving directions to each. The selection of woods and trees seems odd to me, an untravelled Californian. Most seem spindly and scrubby. They have usually been cut back over and over again ("coppiced" and "pollarded") for centuries until they are left shrubby, with many slender, gnarly trunks. Many have a krumholz effect, which can be attractive, but less so when it is caused by arboricultural interference as these are. Most others are dwarfed by suboptimal growth conditions (cliffsides) where the sheep couln't get at them. One gets the impression that the southern half of England has very few trees over 20 feet in height, and almost none over 30 feet. It explains why they are hidden. Scotland and Wales do a little better with some healthy looking woods and a lot of interesting stressed trees, sort of a subalpine effect. There are only a handful of tree species represented, but the impression I get is that these are the only species in Great Britain. It seems that the only non-introduced conifers in Britain are the Yew and the Scotch Pine. The photographs are very attractive but not very botanically informative. Although the author writes in many places about lime trees, and photographs many of them, I would not be able to identify one on the basis of this book. From the photographs they appear as just generic trees. This is a frustration throughout the book. I do think I might be able to identify a rowan in leaf on the basis of this book. So that's one to the good. But I might get it confused with a whitebeam. The author's writing talents do not measure up to his photography. The text is a chatty travelogue just slightly above the level of a flight magazine.