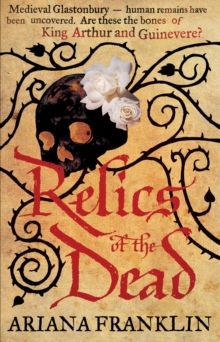 Relics of the Dead : Mistress of the Art of Death, Adelia Aguilar series 3
Paperback
Description
On hearing of this momentous discovery, King Henry II demands evidence that the legendary Arthur is dead.
So he calls upon his Mistress of the Art of Death, anatomist Adelia Aguilar, to examine the bones.
But someone doesn't want the skeletons identified - and is prepared to kill in order to prevent it...
Information
Format: Paperback
Pages: 448 pages
Publisher: Random House USA Inc
Publication Date: 01/03/2010
Category: Crime & mystery
ISBN: 9780553820324
Free Home Delivery
on all orders
Pick up orders
from local bookshops
Reviews
Showing 1 - 2 of 2 reviews.
Review by smik
16/06/2015
History will always remember Henry Plantagenet as the king responsible for the death of Thomas a'Becket, Archbishop of Canterbury. In his quest for a united kingdom, he desperately needs to remove anything that will give rebels a rallying point. In the West of England and in Wales the Arthurian legend is strong, with those who believe that Arthur may rise. Henry II needs Adelia to prove beyond doubt that Arthur is dead. Henry nodded. 'Arthur's. The Welsh are supposed to be a Christian race but their pagan little minds hold Arthur as a more immediate Messiah than Jesus, God rot them. They claim him as their own. He's the one who will rescue them from what they see as the Norman yoke. And I'm not a Norman yoke, Adelia. For one thing, I'm an Angevin and, for another, I'm a bloody good, peace-bringing, justice-giving king if they'd only realize it.'There are several plots developing through the novel. What did the dying Brother Caradoc see when he saw three shadowy figures lowering a coffin into the fissure in Glastonbury Abbey grounds during the earthquake twenty years before? What happened to the Abbot's Crusading son? Where is Adelia's friend Emma? Around these threads and others Ariana Franklin weaves an authentic-feeling historical tale, using some verified fact embroidered with credible detail.Yesterday I read a blog post about how tricky it is to write a historical novel with a satisfying mystery element and to achieve a satisfactory balance. I think RELICS OF THE DEAD achieves that quite well, although I think the character of Adelia and her relationship with both the King and the Bishop of St. Albans strain the bounds. Certainly I enjoyed a lot of the historical detail and there was sufficient in terms of mysteries to get me conjecturing.RELICS OF THE DEAD is #3 of the 4 title Mistress of the Art of Death series. I haven't read any of the others but only occasionally felt at a disadvantage, despite the fact that each book follows in sequence on the previous.
Review by bsquaredinoz
16/06/2015
The book opens in 1154 as an earthquake engulfs Glastonbury Abbey and a dying monk sees people lowering a coffin into a fissure created in the earth. Did the coffin contain the body of the legendary King Arthur, long-thought to be merely sleeping in the nearby hills until his people need him again? Twenty-two years later the monk's nephew, who was present as his uncle died, shares the information with King Henry II who has just quashed one Welsh rebellion and is desperate to rid himself of the legend of Arthur lying in wait to rise again. There has been a fire at Glastonbury Abbey and Henry orders the coffin to be dug up. He then commands the one person in his kingdom who has the skills to authenticate the bones as Arthur's. Adelia Aguilar, the doctor who can 'read bones', reluctantly agrees to attempt to determine the age of the bones. With her daughter and faithful attendants she travels to Glastonbury, travelling part of the way with Lady Emma Wolvercote and her party who are on their way to lay claim to Lady Emma's estate. Later, Adelia discovers she did not make it to her destination. Or did she?<br/><br/>As with the previous two books in this series, <i>Relics of the Dead</i> is first and foremost a good old-fashioned adventure full of brave Knights performing feats of derring-do while less noble souls engage in more prosaic acts. The legend of Arthur and Guinevere is woven artfully into the story unfolding around Adelia in the present day and there's barely a moment for the reader to catch her breath with several action-packed threads playing out at once.<br/><br/>All of this is accompanied by engrossing information about the historical period, so you feel like you're learning something while being thoroughly entertained. Under her real name (Diana Norman) Franklin has researched and written extensively about Henry II and her affection for the man is evident in this book. His faults are talked about, but Franklin generally tends to highlight his foresight and modern thinking by introducing such things as trial-by-jury and other innovations. Having read three of these books now, I'm beginning to develop my own crush on Henry Plantagenet.<br/><br/>Although some people argue that Adelia is an unbelievable character for her time, Franklin makes a a good case that women in her situation would have had more scope to fend for themselves than the true upper class women that Adelia sometimes mixes with. And even if she is not entirely credible for her time, she's wonderful: strong, loving, loyal and smart. Her loyal attendants from the previous books, Mansur and Gyltha, are again excellent in their supporting roles and of course the Bishop of St Albans, the father of Adelia's child, makes another trouble-filled appearance. There are some unforgettable new characters in this tale too, not least of which is the old woman who runs the Pilgrim's Inn at which Adelia and her party stay while in Glastonbury. Franklin is a dab hand at developing very strong, memorable characters quite quickly.<br/><br/>Sadly Diana Norman passed away earlier this year and I have not heard of any unpublished manuscripts lying about so I only have one last book in this series to read, which I think I shall save for some time. I thoroughly recommend this installment of the series to anyone who loves getting absorbed in well-written adventures full of memorable characters.
Also in the Adelia Aguilar series