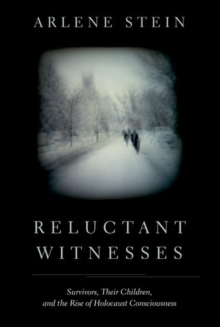 Reluctant Witnesses : Survivors, Their Children, and the Rise of Holocaust Consciousness
Paperback / softback
Description
Americans now learn about the Holocaust in high school, watch films about it on television, and visit museums dedicated to preserving its memory.
But for the first two decades following the end of World War II, discussion of the destruction of European Jewry was largely absent from American culture and the tragedy of the Holocaust was generally seen as irrelevant to non-Jewish Americans. Today, the Holocaust is widely recognized as a universal moral touchstone.
In Reluctant Witnesses, sociologist Arlene Stein-herself the daughter of a Holocaust survivor-mixes memoir, history, and sociological analysis to tell the story of the rise of Holocaust consciousness in the United States from the perspective of survivors and their descendants.
If survivors tended to see Holocaust storytelling as mainly a private affair, their children-who reached adulthood during the heydayof identity politics-reclaimed their hidden family histories and transformed them into public stories. Reluctant Witnesses documents how a group of people who had previously been unrecognized and misunderstood managed to find its voice.
It tells this story in relation to the changing status of trauma and victimhood in American culture.
At a time when a sense of Holocaust fatigue seems to be setting in and when the remaining survivors are at the end of their lives, it affirms that confronting traumatic memories and catastrophic histories can help us make our world mean something beyondourselves.
Information
Format: Paperback / softback
Pages: 256 pages, 11 b/w halftone
Publisher: Oxford University Press Inc
Publication Date: 01/07/2016
Category: General & world history
ISBN: 9780190624606
Free Home Delivery
on all orders
Pick up orders
from local bookshops