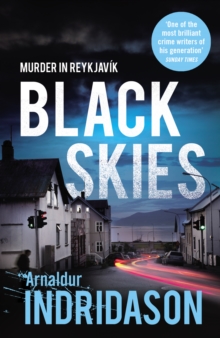 Description
Detective Sigurdur Oli is in trouble. After a school reunion exposes the chasm between his life and those of his much more successful contemporaries, leaving him bitter and resentful, one of his old friends asks him to pay an unofficial visit to a couple of blackmailers.
He readily agrees, only to arrive to find one of the pair lying in a pool of blood.
When the victim dies in hospital, Sigurdur Oli is faced with investigating a murder without revealing his own reasons for being present at the murder scene. Moving from the villas of Reykjavik's banking elite to a sordid basement flat, Black Skies is a superb story of greed, pride and murder from one of Europe's most successful crime writers.
Information
Format: Paperback
Pages: 464 pages
Publisher: Vintage Publishing
Publication Date: 06/06/2013
Category: Crime & mystery
ISBN: 9780099563372
Other Formats
EPUB from £3.99
eAudiobook MP3 from £8.00
Free Home Delivery
on all orders
Pick up orders
from local bookshops
Reviews
Showing 1 - 4 of 4 reviews.
Review by missizicks
16/06/2015
This was a return to form for me. I didn't enjoy the previous novel as much as the rest of the series, because it focused on Elinborg and lacked a little punch. Black Skies, however, was pacey and helped me warm to Sigudur Oli, who had grated on me in previous books. The development of his back story made sense of a lot of his foibles. The circumstances of the job he's on as the book opens explains a lot! The exposition on the Icelandic banking crisis is well written. Arnaldur had clearly done his research. I can't wait for the next instalment in the series.
Review by whirled
16/06/2015
In <i>Black Skies</i>, the spotlight falls upon Erlendur's unlikeable off-sider, Sigurdur Oli. Trying to help a friend facing blackmail, Oli winds up caught in a web of corruption, sexual depravity and murder. As expected, the story is well-paced, rivetting stuff, and goes some way towards humanising the arrogant Oli. But reading a Reykjavik mystery without Erlendur is a bit like going to a Rolling Stones concert without Mick Jagger onstage. I for one hope our 'hero' returns from the fjords in Indridason's next installment.
Review by Mijk
16/06/2015
This is Indridason's commentary on the boom and crisis of recent Iceland financial economy and while it isn't as strong as it could be, that crisis was so all-consuming for Iceland that it must be difficult to reflect on it. Which is why the best book on the whole debacle is bizarrely, Laxness' The Atom Station, written deacdes before. Black Skies is a skillfully constructed novel, with a number of sub-plots and themes running throughout. It also raises the question, in many different ways, of what corruption is. A good read, and again a Reykjavik that most tourists don't see, the hidden (even repressed) underside of Iceland, like all the grit and boulders and debris that leave the actual marks on the landscape beneath the shiny white glaciers visible to the eye.
Review by CarltonC
27/08/2015
This is the eighth novel in the Detective Erlendur series translated into English and although Erlendur does not appear in this story, with just a couple of mentions, his presence is there. This time Erlendur's colleague Sigurdur Óli is the primary narrator as the previous novel, Outrage, concentrated on Elinborg.Sigurdur Óli has not been such a sympathetic character in previous stories, perhaps because he is enamoured with all things American, having spent some time in America, and also because of his deteriorating relationship with his wife, Bergthora.I enjoyed this story as I felt that my understanding of Sigurdur Óli increasde and he became a more sympathetic character.Of course, I also enjoyed the crime stories which were decently plotted (including blackmail, murder, white collar banking crime (it was published in 2009) and a small but effectively used side child abuse story), with expected and unexpected twists and turns, and the Icelandic setting (I have stayed at Hótel Búdir on Snaefellsnes!). But I really read the Detective Erlendur stories for Arnaldur Indriðason's style and descriptive abilities, which were both on good display.This is best read as part of the series and I am now keen to read the concluding episode, Strange Shores.