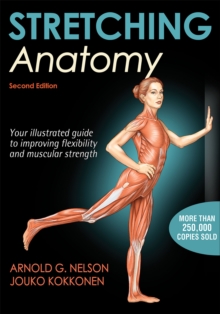 Stretching Anatomy-2nd Edition
Paperback
Description
This is an exercise anatomy bestseller updated. Visually stunning and immediately accessible, this best-selling guide combines step-by-step instructions for performing 86 stretches and 110 full-colour anatomical illustrations highlighting the primary muscles and surrounding structures engaged.
More than just an instruction manual, Stretching Anatomy includes a "Stretch Focus" section that details the procedure and utility for each exercise as well as safety considerations, benefits and variations for increasing or decreasing difficulty.
Stretching provides numerous benefits, including improved flexibility, stamina, posture and muscular strength as well as reduced muscle soreness.
Stretching Anatomy is one of 20 titles in the Anatomy Series, Human Kinetics' bestselling series of all time with over two million copies in print.
Information
Format: Paperback
Pages: 232 pages, 118 Illustrations, color; 119 Halftones, color
Publisher: Human Kinetics Publishers
Publication Date: 10/10/2013
Category: Exercise & workout books
ISBN: 9781450438155
Free Home Delivery
on all orders
Pick up orders
from local bookshops
Reviews
Showing 1 - 5 of 9 reviews.
Previous | Next
Review by 06nwingert
16/06/2015
Myriad scientific evidence suggests that stretching before and after exercise has numerous benefits. But, which muscles should you stretch and how should you stretch them? Those questions are answered in <i> Stretching Anatomy, 2nd edition</i>. This book is filled with detailed graphics, showing how to properly perform each stretch and the muscles worked. The last chapter shows what stretches are necessary for various sports such as bowling, running, American football, soccer, baseball, and basketball.
Review by Daniel.Estes
16/06/2015
Stretching Anatomy by Arnold Nelson and Jouko Kokkonen is the complete guide to stretching. And I do mean complete. This guide has it all, from scientific diagrams and explanations to straightforward stretching how-to's. The reading and descriptions can be dense, but if you're just looking to get started, the individual sections make it easy to understand the basic steps.I recommend doing some of the reading before attempting any stretch because it's easier than one might think to do it wrong and risk injury.
Review by onyx95
16/06/2015
What is a complete guide to stretching, this is. In one book you can see the difference between each muscle group and find out the best stretching exercises to benefit you. It helps you determine not only by muscle groups, but in the back of the book it lists suggestions for stretching by sport or activity. This guide gives a detailed description of each stretch with helpful hints, exact muscle being used and very good pictures of the muscle and the stretch. Over all, this is by far one of the better exercise/stretching books I have ever seen. Thank you LibraryThing for giving me a chance to see it through EarlyReviewer program.
Review by eo206
16/06/2015
This is a great book for explaining how the muscles work and how stretching works. It is a nice addition to my weekly yoga practice, I now can identify which muscles I'm stretching and why holding a certain pose opens it up. The illustrations are crisp and the text is clear. It is also easy to thumb through and learn a few nuggets of information here and there. This book will be added next to [Light on Yoga] as a reference book.
Review by msbaba
16/06/2015
I am a visual learner. If I can see something, it makes much more sense to me and I can always remember it better and longer. That's why I was so eager to get this <i>Stretching Anatomy</i> book. I'd used a library copy of the 1st edition in the past, so I was familiar with the book and knew it would make a useful addition to my home reference collection. The first edition has become a classic with over a quarter million copies sold. If you do an OCLC WorldCat search on the first edition, you see that this book is held by just about every major public library and virtually all university libraries where they have a strong kinesiology department. With a pedigree like that, you can't go wrongThe book has an introduction, nine chapters, and an index called "Stretch Finder." The names of the nine chapters are: 1) Neck; 2) Shoulders, Back and Chest; 3) Arms, Wrists, and Hands; 4) Lower Trunk; 5) Hips; 6) Knees and Thighs; 7) Feet and Calves; 8) Dynamic Stretches; and 9) Customizing your Stretching Program. There are multiple illustrations within each chapter, each covering a specific stretch. Each illustration is accompanied by a detailed explanation for that stretch, including direction on how to execute the stretch, a listing of exactly which muscles are stretched and how much, and finally there is a paragraph or two of miscellaneous notes about that stretch. Naturally, the illustration shows exactly and very clearly all the muscles involved in the stretch. Toward the top of each page, there is a blue tab with vertical white lettering identifying where you are in the book; you can use these tabs to thumb through the book easily and quickly to find each chapter and exercise you need. Chapter eight on dynamic stretch briefly discusses what a dynamic stretch is and how it differs from the typical static stretch. It also touches on the pros and cons of these two methods of stretching. The chapter contains nine dynamic stretching exercises covering most major muscle groups used by athletes in the performance of their sports.Chapter nine, "Customizing your Stretching Program," is the longest single chapter in the book at over thirty pages. The pages start with a small section devoted to general, non-sport-specific exercises, then they go on to a lengthy set of tables specific to different types of sports. In each case, beginning, intermediate, and advanced levels of these exercise routines are highlighted. Each table is color-enhanced to increase easy of use.There is a small, but very useful index at the end called the "Stretch Finder." This book lets you see *inside* every stretch. That's its beauty. You easily can visualize exactly what is going on inside your body as you perform these exercises. You can see in your mind's eye how your muscles are moving. Personally, I can't imagine anyone undertaking a serious stretching routine without it. To my mind, it's indispensable.