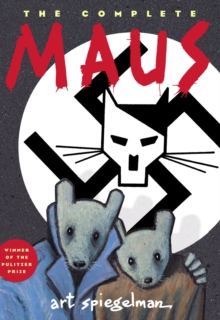 The Complete Maus
Paperback
Description
The Complete Maus by Art Spiegelman - the Pulitzer prize-winning Holocaust survivor story'The most affecting and successful narrative ever done about the Holocaust' Wall Street Journal'The first masterpiece in comic book history' The New YorkerThe Pulitzer Prize-winning Maus tells the story of Vladek Spiegelman, a Jewish survivor of Hitler's Europe, and his son, a cartoonist coming to terms with his father's story.
Maus approaches the unspeakable through the diminutive.
Its form, the cartoon (the Nazis are cats, the Jews mice), shocks us out of any lingering sense of familiarity and succeeds in 'drawing us closer to the bleak heart of the Holocaust' (The New York Times).Maus is a haunting tale within a tale.
Vladek's harrowing story of survival is woven into the author's account of his tortured relationship with his aging father.
Against the backdrop of guilt brought by survival, they stage a normal life of small arguments and unhappy visits.
This astonishing retelling of our century's grisliest news is a story of survival, not only of Vladek but of the children who survive even the survivors.
Maus studies the bloody pawprints of history and tracks its meaning for all of us.This combined, definitive edition includes Maus I: A Survivor's Tale and Maus II.Art Spiegelman is a contributing editor and artist for the New Yorker.
His drawings and prints have been exhibited in museums and galleries around the world.
He won the Pulitzer Prize for Maus, and a Guggenheim fellowship.
It was also nominated for the National Book Critics Award.
His other books include: Breakdowns: From Maus to Now, an Anthology of Strips; The Wild Party; Open Me, I'm A Dog; Jack Cole and Plastic Man: Forms Stretched to Their Limits; In the Shadow of No Towers; Breakdowns: Portrait of the Artist as a Young %@&*!; Be a Nose; Jack and the Box and MetaMaus.
He lives in New York.
Information
Format: Paperback
Pages: 296 pages
Publisher: Penguin Books Ltd
Publication Date: 01/10/2003
Category: Comic book & cartoon art
ISBN: 9780141014081
Free Home Delivery
on all orders
Pick up orders
from local bookshops
Reviews
Showing 1 - 5 of 35 reviews.
Previous | Next
Review by Clurb
16/06/2015
Maus is a traumatic and harrowing account of one man's experience of the Holocaust. The clever writing of the story in comic book form is done with insight and intellect. I defy anyone not to be moved by this novel.
Review by nicole_a_davis
16/06/2015
A grim story, but told in an intersting way. I liked the use of different animals as different types of characters, and how they sometimes put on masks. I thought the drawing was a little weak--especially after seeing pp 100-103, which is a comic within the book; those illustrations were great and very effective that I wish the whole book had been done in a similar style to those pages.
Review by limeminearia
16/06/2015
Me: You get interviewed a lot. Is there a question that you've heard enough and wish people would stop asking?Spiegelman: It's always like "So why did you use mice?" at which point I just go to sleep. But I'm willing to confess to anything when asked.
Review by hansenm2
16/06/2015
Maus is a great book to be used in a Unit because it incorporates so many aspects of literature and history. First off, any student that has any knowledge/interest in the Holocaust would probably benefit from this book because that is its subject manner. Secondly, if a student is really into reading graphic novels (otherwise called comic books) they would thoroughly enjoy it as well. In this manner it is more multicultural as well. This is because it appeals not only to students who like to read regular novels, but also to the comic book culture, which, in case you were wondering, really is a separate culture all of its own. As an added feature a struggling reader might like this book because it gives them visual cues that they can use to understand the context of what is being read. Also, once a struggling reader has made it through this tough of a book they may be more willing to read more traditional novels. Above all else this novel combines English with History so that History and English teachers could teach units correspondingly. This way what students learn in one class can be reinforced in the other. The only problem with Maus is that a teacher might be hard pressed to get funding for a "comic book" from in some school districts. However, I think it would be well worth the investment for both the education of the students and so they can have fun while learning.
Review by Josh_Hanagarne
16/06/2015
Cannot say enough good things about this book. One of the few times that I've said a story was expressed more effectively through the graphic novel format. Deceptively simple, worth pondering and revisiting.