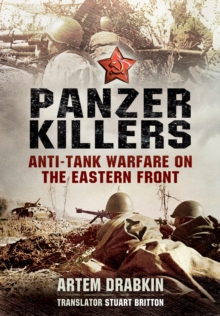 Description
What was it like to confront the German panzer armies as an anti-tank gunner on the Eastern Front during the Second World War?
How could you hope overcome of one of the best-equipped, well-trained and tenacious armoured forces of the time? And how did the Red Army's tactics and skills develop over the course of the war in order to counter the threat posed by the elite troops of the Wehrmacht?
The vivid personal narratives of Red Army anti-tank men selected for this book give a fascinating insight into these questions - and into the first-hand experience of anti-tank warfare seventy years ago.
Their testimony reveals how lethal, rapid, small-scale actions - gun against tank - were fought, and it shows how such isolated actions determined the outcome of the massive offensives and counter-offensives that characterized the struggle on the Eastern Front.
Panzer Killers is a valuable addition to the series of graphic eyewitness accounts of every aspect of the Red Army's war on the Eastern Front published by Pen & Sword.
Information
Format: Hardback
Pages: 224 pages, 48 illustrations
Publisher: Pen & Sword Books Ltd
Publication Date: 20/03/2013
Category: Second World War
ISBN: 9781781590508
Free Home Delivery
on all orders
Pick up orders
from local bookshops
Also by Artem Drabkin