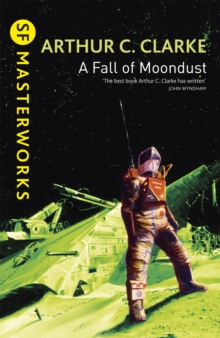 A Fall of Moondust
Paperback
Description
Time is running out for the passengers and crew of the tourist cruiser Selene, incarcerated in a sea of choking lunar dust.
On the surface, her rescuers find their resources stretched to the limit by the mercilessly unpredictable conditions of a totally alien environment.
A brilliantly imagined story of human ingenuity and survival, A FALL OF MOONDUST is a tour-de-force of psychological suspense and sustained dramatic tension by the field's foremost author. Shortlisted for the Hugo Award, 1963.
Information
Format: Paperback
Pages: 224 pages
Publisher: Orion Publishing Co
Publication Date: 01/03/2002
Category: Science fiction
ISBN: 9780575073173
Free Home Delivery
on all orders
Pick up orders
from local bookshops
Reviews
Showing 1 - 5 of 6 reviews.
Previous | Next
Review by olyra
16/06/2015
A very good, if somewhat drawn out story. it could have been a bit more concise.
Review by MerryMary
16/06/2015
The characters may not be as finely tuned as I would wish, but the story is superb. I love the setting - a moon tour bus in trouble, inter-planetary media sharks, primitive survival amidst useless technology, the rescue efforts that run into one snag after another, and the snotty prude on the bus that pushes the pilot and "stewardess" into a romantic interlude!
Review by yosarian
16/06/2015
One of the books that makes it easy to see why Arthur C Clarke is so highly regarded, it was nominated for a Hugo Award [for best sci-fi novel] in 1963 being beaten by Philip K Dick's book 'The Man in The High Castle'; one of his I have yet to read ... it must be good to have beaten this!It's a hard sci-fi book, that is it is puts an emphasis on technical detail and scientific accuracy, so don't expect little green men on the moon or captains of rocket ships beaming down ... The story is of a tourist ship that takes passengers skimming over a dust filled 'sea' on the moon in much the same way as a jet ski would, there's an accident and the ship sinks. The moon tourist board and technicians then have a fixed amount of time to try and rescue the crew and passengers before their oxygen runs out. It reminded me of the film Apollo 13 in that sense and certainly there is a very real sense of pace and urgency fom the technicians as they try to solve the problem of bringing the ship up on the moon's surface despite unhelpful suggestions from members of the public back on Earth watching the tragedy. But there are also some great moments from the passengers as the story shows how they are becoming affected by the situation and especially from the committee set up to organise fun and games to keep morale high.This book gets 4 stars from me, this means I will certainly re-read it again.
Review by LisaMaria_C
16/06/2015
I'm probably unique in this, but to be honest this is my favorite novel by Clarke, despite it being very atypical for him. Arthur C. Clarke was my mother's favorite author. She loved the transcendental in him, the religious flavor in his futuristic science fiction. She loved to tell the story of how she took me to see <i>2001: A Space Odyssey</i> in theaters when I was a toddler and ruined it for her by squalling during the psychedelic scenes--it's actually one of my oldest and most traumatic memories. But for her, that's what she loved--the idea of all of us as star children, of a apotheosis of space and the heavens. If you're looking for that Clarke, you might want to put this book down and go find <i>Childhood's End</i>, <i>Rendezvous with Rama</i>, <i>The City and the Stars</i> or <i>2001: A Space Odyssey</i>, either the book or film. So many might find this book prosaic compared to his more cosmic, ambitious works. Rather this is a suspenseful book of disaster and rescue--more <i>The Poseidon Adventure</i> than <i>2001.</i> Twenty-two people, the passenger and crew of the tourist boat <i>Selene</i>, are caught in "a fall of moondust" on the Sea of Thirst. They're trapped 15 meters below the surface with no way of communicating with the outside--and time--and breathable air--is running out. The basic premise about how moondust works is dated--this was published in 1961 before the moonlandings and when there had been only a few unmanned probes of the lunar surface. But did I care? Not in the least. Great read.
Review by DeanClark
16/06/2015
Quality science fiction. No fantasy, no magic.
Also in the S.F. Masterworks series | View all