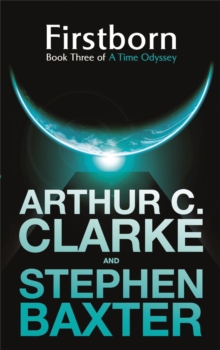 Firstborn : A Time Odyssey Book Three
Paperback
Description
Two of the biggest names in SF together again, with the third of the acclaimed Time's Odyssey sequenceWith this epic tale of altered histories and different earths, a universe where Alexander's empire prompted a different past, a world where strange alien 'eyes' gaze upon a fractured reality, a time when man is looking to colonise the red planet, Arthur C.
Clarke and Stephen Baxter scale new heights of ambition and sheer story telling brio.This is classic SF adventure from two of the biggest names in the genre.
A heady combination of high concept SF, big engineering projects and human drama.
Information
Format: Paperback
Pages: 384 pages
Publisher: Orion Publishing Co
Publication Date: 01/02/2009
Category: Science fiction
ISBN: 9780575083417
Free Home Delivery
on all orders
Pick up orders
from local bookshops
Reviews
Showing 1 - 2 of 2 reviews.
Review by pauliharman
16/06/2015
Hard science fiction at its very best. The 3rd novel in the Firstborn series (or, if you prefer, the 7th novel in the '2001 A Space Odyssey' series). I don't know how much input ACC had in these works - the voice is absolutely Baxters, who I guess is working from ACC's ideas or from ideas they germinated together.The Firstborn, a race from the early days of the universe, seem intent on wiping out other space-travelling civilisations by sending them ever more improbable physics disasters to try to avert. This time, it's the Q-Bomb, an unstoppable quantum weirdness that will destroy the earth in full Space Opera fashion.The story's never quite resolved and there's the definite sense of setting up another novel, or even another trilogy. let's hope it doesn't turn into a "Firstborn Greatest Hits" novel...
Review by TheCrow2
16/06/2015
In the third book of the Time Odyssey trilogy the Earth is under attack again by the mystical Firstborn this time with an unstoppable Q bomb. Especially enjoyed the clever and beliveable use of current physical theories through the book. Not Clarke's best by far but a respectable closing of a wonderful life work.