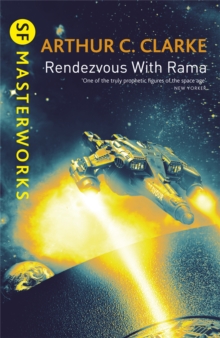 Rendezvous With Rama
Paperback
Description
The multi-award-winning SF masterpiece from one of the greatest SF writers of all timeRama is a vast alien spacecraft that enters the Solar System.
A perfect cylinder some fifty kilometres long, spinning rapidly, racing through space, Rama is a technological marvel, a mysterious and deeply enigmatic alien artefact.It is Mankind's first visitor from the stars and must be investigated ...Winner of the HUGO AWARD for best novel, 1974Winner of the NEBULA AWARD for best novel, 1973Winner of the JOHN W.
CAMPBELL AWARD for best novel, 1974Winner of the BSFA AWARD for best novel, 1973
Information
Format: Paperback
Pages: 256 pages
Publisher: Orion Publishing Co
Publication Date: 13/04/2006
Category: Science fiction
ISBN: 9780575077331
Other Formats
EPUB from £5.99
Paperback from £6.10
Free Home Delivery
on all orders
Pick up orders
from local bookshops
Reviews
Showing 1 - 4 of 4 reviews.
Review by codeeater
16/06/2015
Nice, although not as good as some review suggested: maybe that's not because of the book itself, but because I've read similar and newer first contact stories that appealed more to me. At the time of writing it may have been more original.
Review by sturlington
16/06/2015
Rendezvous with Rama is a big-idea book in the classic tradition of hard science fiction. Rama is a gigantic space station, seemingly dead for hundreds of thousands of years, that enters our solar system in a future when humankind has colonized all of the habitable moons and planets. There is a brief window when the crew of the nearby spaceship Endeavour can explore this technical marvel before it passes too close to the Sun. Most of the story details the exploration and what is found inside.The structure of the huge spacecraft is fascinating. But there isn't a lot of plot here and the characters are fairly one-dimensional. (A hint of a sex scene toward the end seems both out-of-place and superfluous.) The novel ends on something of a cliffhanger, but the sequels were not written by Clarke and are said to be sub-standard, so I probably won't read them. I was left a little frustrated, wanting more.I have noticed a similar theme in Clarke's novels. He envisions aliens as so technologically advanced that they are god-like. They visit us either to ignore us completely or to manipulate us, but always they seem remote, impassive, uninterested in our petty concerns, again like gods. Having recognized this pattern, I don't feel all that eager to read another Arthur C. Clarke novel.
Review by IaninSheffield
16/06/2015
Felt a bit shallow with characters hardly fleshed out; rather superficial. Interesting to note the technologies mentioned which have actually since come to pass.
Review by sundowneruk
02/03/2016
I've no idea why but I struggled with this all the way. It's not as if the story is slow or anything, in fact I think the idea is brilliant! Perhaps I have too much going on in my life to enjoy it right now.<br/><br/>I think this will have to get reread at some stage!