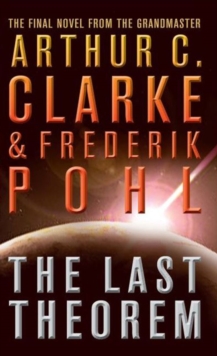 The Last Theorem
Paperback
Description
The final work from the brightest star in science fiction's galaxy.
Arthur C Clarke, who predicted the advent of communication satellites and author of 2001: A Space Odyssey completes a lifetime career in science fiction with a masterwork. 30 light years away, a race known simply as the One Point Fives are plotting a dangerous invasion plan, one that will wipe humankind off the face of the Earth... Meanwhile, in Sri Lanka, a young astronomy student, Ranjit Subramanian, becomes obsessed with a three-hundred-year-old theorem that promises to unlock the secrets of the universe.
While Ranjit studies the problem, tensions grow between the nations of the world and a UN taskforce headed up by China, America and Russia code-named Silent Thunder begins bombing volatile regimes into submission. On the eve of the invasion of Earth a space elevator is completed, helped in part by Ranjit, which will herald a new type of Olympics to be held on the Moon.
But when alien forces arrive Ranjit is forced to question his own actions, in a bid to save the lives of not just his own family but of all of humankind. Co-written with fellow grand master Frederik Pohl, The Last Theorem not only provides a fitting end to the career one of the most famous names in science fiction but also sets a new benchmark in contemporary prescient science fiction.
It tackles with ease epic themes as diverse as third world poverty, the atrocities of modern warfare in a post-nuclear age, space elevators, pure mathematics and mankind's first contact with extra-terrestrials.
Information
Format: Paperback
Pages: 448 pages
Publisher: HarperCollins Publishers
Publication Date: 01/02/2009
Category: Science fiction
ISBN: 9780007290024
Free Home Delivery
on all orders
Pick up orders
from local bookshops
Reviews
Showing 1 - 1 of 1 reviews.
Review by SonicQuack
16/06/2015
The Last Theorem stands at the opposite end of the 'Earth under attack' spectrum to Independence Day. Several strands are weaved together, albeit discordantly initially, where character development is somewhat padded. The aliens are well conceptualized, portrayed in a distant manner, not meant to be understood. Humanity however is readily described; our failures all to apparent. We are self-destructive and Clarke and Pohl balance our quest for understanding against our desire to control. After the shaky start the two main elements create an interesting, although not riveting, read. The future tech is interesting although mostly subtle, the mathematics a low-key propellant, both ensuring the story is not bogged down in complexity. The Last Theorem is not a Clarke classic and it stands alone as a short and interesting novel.